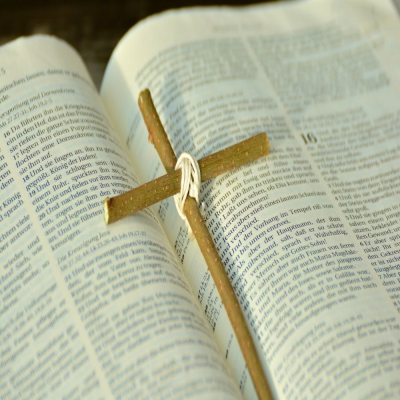 Healing A Broken Relationship
"If you enter your place of worship and, about to make an offering, you suddenly remember a grudge a friend has against you, abandon your offering, leave immediately, go to this friend and make things right. Then and only then, come back and work things out with God" (Matthew 5:23-24 NIV).
One thing that is as certain as death and taxes is that others will let us down.  This can take many forms such as someone not living up to their end of an agreement, spreading gossip or taking advantage of our friendship.  It is natural to be offended in these situations. In contrast, the Bible says:  "A person's wisdom yields patience; it is to one's glory to overlook an offense"  (Proverbs 19:11).
God considers our relationships with others to be of vital importance. In fact, we are told to restore our broken relationships before worship. God desires our hearts more than anything and He knows that if we are in conflict with another person then our heart is not receptive to the Word. We are instructed in Matthew 5:23-24, "If you enter your place of worship and, about to make an offering, you suddenly remember a grudge a friend has against you, abandon your offering, leave immediately, go to this friend and make things right. Then and only then, come back and work things out with God."
God clearly wants us to take the initiative to heal a broken relationship. This desire is regardless if you are the offender or the offended.  Procrastination or waiting for the other person to make the first move will not work. This will only serve to deepen the resentment. Time heals many things — but not a broken relationship.
It is also important to act quickly to reduce the spiritual damage to yourself. The Bible tells us that unresolved conflict blocks our fellowship with God and keeps our prayers from being answered. This is why Jesus commands us to restore our broken relationships before we worship. Job's friends reminded him, "To worry yourself to death with resentment would be a foolish, senseless thing to do," (Job 5:2) and, "You are only hurting yourself with your anger," (Job 18:4).  It has often been said that when you forgive someone, the prisoner you set free is yourself.
So, how do I resolve my conflict?  First, pray for God's guidance and His words and His ears as you enter into the meeting with the other. Pray for the other person. The best meetings that yield the best fruit happen when all parties are at their best. So, avoid a meeting time in which either of you are rushed, tired, sick, distracted, or likely to be interrupted.  If your one-on-one meeting is unsuccessful then bring in a third party to help you resolve the conflict.  Matthew 18:16 teaches, "But if they will not listen, take one or two others along, so that "every matter may be established by the testimony of two or three witnesses."  Jesus felt so strongly about resolving the conflict that he even offered another more extreme option if the meeting with the third party was unsuccessful.  "If they still refuse to listen, tell it to the church; and if they refuse to listen even to the church, treat them as you would a pagan or a tax collector" (Matthew 18:17).
As for myself, there's no question that the bottom line is summed up in Romans 12:18: "If it is possible, as far as it depends on you, live at peace with everyone."  Sometimes we have done all we can do, and we move on and pray God's blessing be on the other person.
Prayer:  Dear God, Help us to forgive others as You have forgiven us.  Amen.
Todd Shupe is a Men's Ministry Specialist through the General Commission of United Methodist Men and is in training to be a Certified Lay Minister through the Louisiana Conference of the United Methodist Church. He currently serves as the President of the Baton Rouge District of United Methodist Men and is a Board Member for Gulf South Men and serves on the Action Team for The Kingdom Group. He is a volunteer for the Walk to Emmaus, Grace Camp, and Iron Sharpens Iron. Todd resides in Baton Rouge, Louisiana.
We welcome your comments below.
Thank you for visiting. We trust that you have enjoyed reading our articles.
Read more below or search for more topics...
Creating And Enforcing A Boundary Does Not Make You A Donkey "The Lord God took the man and put him in the Garden of Eden to work it and take care of it.  And the Lord God commanded the man, "You are free to eat from any tree in the garden; but you must not eat from the tree of the knowledge of good and evil, for when you eat from it you will certainly die."  (Genesis 2:15-17 NIV).All was well with God's creation on earth for the entirety of the first two chapters of Genesis.  Then, the story turns as we failed to obey His instructions,...

A Ministry Making a Positive Impact - The KINGDOM Group! I want to bring to your attention to a ministry that is making a positive impact in locally and nationally.  The KINGDOM Group International, Inc. is a Baton Rouge based organization that is successfully addressing racial and cultural divisiveness.  For the past 3 years this ministry has held meetings and special events that have resulted in very positive changes in the area of unity and reconciliation.Giving a SINGLE GIFTin any amount; orBecoming a MONTHLY DONORof $10, $25, $50, $100 or any amount; orBy giving an "IN-KIND GIFT"(office space, equipment or supplies, volunteering, other donations,...

Finding the Fruits of the Spirit "If we live in the Spirit, let us also walk in the Spirit.  Let us not be desirous of vain glory, provoking one another, envying one another" (Galatians 5:25-276 KJV). I love to watch St. Louis Cardinals baseball games on television.  I played little league baseball but knew at a very young age that I would never play professional baseball at any level.  I simply did not have the talent.  It was not "in" me.  I had the gift of a strong arm.  However, it was not the strongest by far and when combined with an...