16"Rejoice always, 17 pray continually, 18 give thanks in all circumstances; for this is God's will for you in Christ Jesus."
1 Thessalonians 5:16-18 (NIV)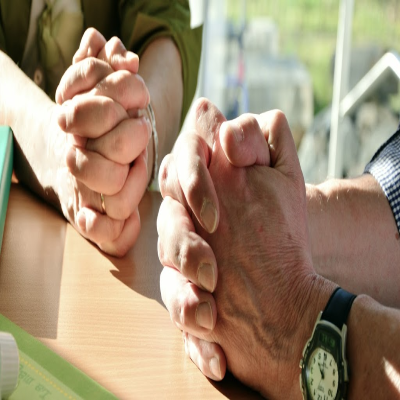 The Bible has much Scripture that encourages us to seek God through prayer.  The Gospels and the Epistles are particularly filled with Holy Scripture that encourages us to seek God's face through prayer.   Our direct line of communication to God is prayer.  It is a deeply personal process by which we bring Him our prayers of thanksgiving and supplication.  We go into our inner room and pray to our loving Father with full confidence that He hears us and will act on our behalf in the perfect manner and time.
1 Thessalonians 5:17 calls us to "pray continually" and other translations will indicate "without ceasing."  I don't think we are expected to spend all of our life on our knees in prayer.  I do feel
 that we can and should lead a prayerful life.  This includes having a prayerful attitude.  Look at the context of "pray continually" in 1 Thessalonians 5:16-18.  The Scripture begins with "Rejoice always" and then tells us how by "pray continually."  It concludes by giving the reason: "for this is God's will for you in Christ Jesus."
A prayerful life has two fundamental components.  First, we are constantly aware of the many blessings that we have because of Him.  Second, we are able to be grateful in any circumstance.  We are not grateful for all circumstances because some circumstances are evil and not from God.  However, just as Paul was able to find joy while shipwrecked or in prison, we can find joy in our adversity because we wait with child-like anticipation of how He will use it for good.
A prayerful attitude is developed by acknowledging our dependence on God (Proverbs 3:5-6), realizing He is always with us (Isaiah 41:10), and choosing to trust and obey (Psalm 9:10).  Prayer then becomes a continual process of offloading our fears and worries and uploading His love and grace.  In a prayerful life, we put God first not out of obligation or fear but out of faith and love.  Matthew 6:33 instructs us to, "seek ye first the kingdom of God, and His righteousness."  If we do put God first, then He will surely give us His provision and protection as the good Father.
Prayer: Dear Heavenly Father, We thank you for the gift of prayer and the comfort of knowing that you hear all of our prayers.  We thank you for the comfort of knowing that you desire greater things for us than we can ever imagine.  Help us to develop a deeper sense of appreciation for our blessings.  Keep us mindful that we can find joy in all circumstances because we know that any adversity we face on earth is temporary and will be used by you for our good.  Help us to always prayerfully proceed in life and seek your kingdom first in all that we do.  Amen.
Todd Shupe is a Men's Ministry Specialist through the General Commission of United Methodist Men and is in training to be a Certified Lay Minister through the Louisiana Conference of the United Methodist Church. He currently serves as the President of the Baton Rouge District of United Methodist Men and is a Board Member for Gulf South Men and serves on the Action Team for The Kingdom Group. He is a volunteer for the Walk to Emmaus, Grace Camp, and Iron Sharpens Iron. Todd resides in Baton Rouge, Louisiana.
We welcome your comments below.
Thank you for visiting. We trust that you have enjoyed reading our articles.
Read more below or search for more topics...
A Joyful Life "The thief comes only to steal and kill and destroy; I have come that they may have life, and have it to the full" (John 10:10 NIV).Our society has achieved a point of technological advancement that was unthinkable a mere 10-20 years ago.  In the Western world, we have freedoms of speech and access to clean drinking water that are unheard of in other countries.   All of us, even those barely out of diapers, have smart phones.  However, many Americans are without joy and are seeking answers from pharmaceutical companies to the bottom of a beer bottle.  I...

Crisis Management From Daniel "Then Daniel returned to his house and explained the matter to his friends Hananiah, Mishael and Azariah.   He urged them to plead for mercy from the God of heaven concerning this mystery, so that he and his friends might not be executed with the rest of the wise men of Babylon" (Daniel 2:17-18 NIV).I have long enjoyed reading the book of Daniel.  He was a young Jewish man that lived in Jerusalem and was taken into captivity by Nebuchadnezzar of Babylon.  He loyally served the king while remaining true to God.  The story of Daniel in the lion's den from Daniel...

Anger Can Be Good  "Fools vent their anger, but the wise quietly hold it back" (Proverbs 29:11 NLT).  Many people think that all anger is bad or sinful.  We tend to associate anger with a loss of control, shouting, and aggressive behavior.  However, anger can be good and only becomes sinful when it is expressed in an inappropriate way.  There is nothing wrong with anger if it is properly directed.  We are taught, "In your anger do not sin" (Ephesians 4:26).  We are less likely to model Godly behavior, and sin, if we are controlled by our anger rather than we control...