16"Rejoice always, 17 pray continually, 18 give thanks in all circumstances; for this is God's will for you in Christ Jesus."
1 Thessalonians 5:16-18 (NIV)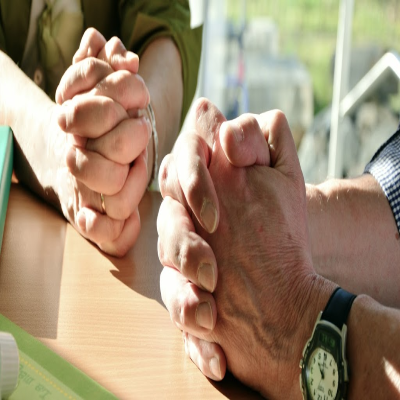 The Bible has much Scripture that encourages us to seek God through prayer.  The Gospels and the Epistles are particularly filled with Holy Scripture that encourages us to seek God's face through prayer.   Our direct line of communication to God is prayer.  It is a deeply personal process by which we bring Him our prayers of thanksgiving and supplication.  We go into our inner room and pray to our loving Father with full confidence that He hears us and will act on our behalf in the perfect manner and time.
1 Thessalonians 5:17 calls us to "pray continually" and other translations will indicate "without ceasing."  I don't think we are expected to spend all of our life on our knees in prayer.  I do feel
 that we can and should lead a prayerful life.  This includes having a prayerful attitude.  Look at the context of "pray continually" in 1 Thessalonians 5:16-18.  The Scripture begins with "Rejoice always" and then tells us how by "pray continually."  It concludes by giving the reason: "for this is God's will for you in Christ Jesus."
A prayerful life has two fundamental components.  First, we are constantly aware of the many blessings that we have because of Him.  Second, we are able to be grateful in any circumstance.  We are not grateful for all circumstances because some circumstances are evil and not from God.  However, just as Paul was able to find joy while shipwrecked or in prison, we can find joy in our adversity because we wait with child-like anticipation of how He will use it for good.
A prayerful attitude is developed by acknowledging our dependence on God (Proverbs 3:5-6), realizing He is always with us (Isaiah 41:10), and choosing to trust and obey (Psalm 9:10).  Prayer then becomes a continual process of offloading our fears and worries and uploading His love and grace.  In a prayerful life, we put God first not out of obligation or fear but out of faith and love.  Matthew 6:33 instructs us to, "seek ye first the kingdom of God, and His righteousness."  If we do put God first, then He will surely give us His provision and protection as the good Father.
Prayer: Dear Heavenly Father, We thank you for the gift of prayer and the comfort of knowing that you hear all of our prayers.  We thank you for the comfort of knowing that you desire greater things for us than we can ever imagine.  Help us to develop a deeper sense of appreciation for our blessings.  Keep us mindful that we can find joy in all circumstances because we know that any adversity we face on earth is temporary and will be used by you for our good.  Help us to always prayerfully proceed in life and seek your kingdom first in all that we do.  Amen.
Todd Shupe is a Men's Ministry Specialist through the General Commission of United Methodist Men and is in training to be a Certified Lay Minister through the Louisiana Conference of the United Methodist Church. He currently serves as the President of the Baton Rouge District of United Methodist Men and is a Board Member for Gulf South Men and serves on the Action Team for The Kingdom Group. He is a volunteer for the Walk to Emmaus, Grace Camp, and Iron Sharpens Iron. Todd resides in Baton Rouge, Louisiana.
We welcome your comments below.
Thank you for visiting. We trust that you have enjoyed reading our articles.
Read more below or search for more topics...
Lessons from the Lepers "Jesus asked, "Were not all ten cleansed? Where are the other nine?"  (Luke 17:17 NIV) The Word teaches us in Luke 17 that Jesus healed ten men with leprosy. Lepers were social outcasts in Bible times and were forbidden from intermingling with others in society (Leviticus 13).   These ten men were living a life of extreme agony.  Leprosy attacks the body, leaving sores, missing fingers, missing toes, and damaged limbs. In many cases, the initial pain of leprosy gives way to something more terrible than that - a loss of sensation in nerve endings, leading to more damage...

What Is Your Reflection? "He will sit as a refiner and purifier of silver; He will purify the Levites and refine them like gold and silver" (Malachi 3:3 NIV). I think most people probably use a mirror at least once a day, maybe even multiple times.  We look at ourselves to see our reflection.  We want to know what image we are reflecting out to others.  Then, we take action to improve our appearance.Scripture tells us that God's Word is like a mirror:  "Anyone who listens to the Word but does not do what it says is like someone who looks at...

Book Review: Overcoming Racial And Cultural Barriers To Disciple Men by Rev. Elmo Winters "And hath made of one blood all nations of men for to dwell on all the face of the earth, and hath determined the times before appointed, and the bounds of their habitation" (Acts 17:26 KJV). Each generation faces unique challenges that historians use to define that time period or generation.  There are some challenges that seem to transcend time and linger from one generation to the next.  The issue of race is as old as the Biblical story of the Samaritan woman at the well that encounters...