Can saying 'No' please God?
"Therefore, since we are surrounded by such a great cloud of witnesses, let us throw off everything that hinders and the sin that so easily entangles. And let us run with perseverance the race marked out for us" (Hebrews 12:1 NIV).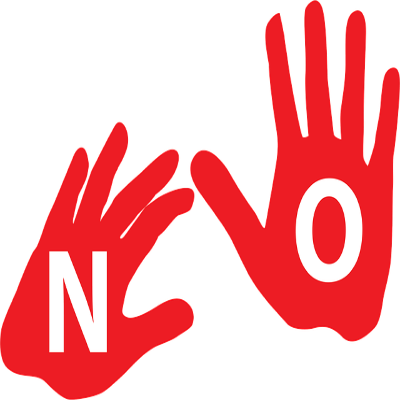 Each day we all get asked by others to do things.  Some tasks are fun, some are mundane, and some are someplace in the middle.  Service to others is an important way in which we show the love of Christ.  Service is ministry.  Service is important.
I struggle with saying "no" to help people, especially when the request is from my home church, a Christian organization to which I belong, or a good friend.  I guess I am a people pleaser, and I suspect I am not alone in that regard.  However, I have come to learn that perhaps the most important word to remember for a meaningful spiritual journey may be a surprising one – "no."
Our faith journey is a long journey. Several people start off well in their spiritual journey but burn out, lose interest, or become detached due to a tragedy that they cannot reconcile.
As we learn in Hebrews 12:1, God has set out a race for us.  We can still run a good race with some extra weight in our pockets.  "Some extra weight" to me means an appropriate amount of carrying other's burdens.  If we overload ourselves with Christian work, we can not run our race that "has been marked out for us."  God wants us to run our race and finish the race.  He wants to tell us at the end of our race, "Well done, thou good and faithful servant" (Matthew 25:21).
Hebrews 12:1 says, "Let us strip off every weight that slows us down."  To me, the key here is "that slows us down."  Weights are not bad or sinful.  I can run with a little bit of weight in my pockets and not be slowed down.  Each of us is different in how fast we can run and how much weight we can carry.  Each of us must discern through the Holy Spirit what weight we should and should not carry.
So, if we feel that everything is important, then nothing is important.  We are not all called to participate in every service project, mission trip, etc.  Yes, these activities are great and an excellent way to bring the light of Christ into the world.   Our first responsibility is honor God, and we do that by "running with perseverance the race marked out for us." 
My race is essential for me to "work out my salvation with fear and trembling" (Philippians 2:12).  Your race is essential for your salvation.  Works are how we show the love of Christ, but our salvation is through the grace of God and the blood of Jesus.  So, saying "no" can please God, if you are saying "yes" to Him.
Prayer:  Dear God:  Help us realize that sometimes when we say no to others we are saying yes to you.  You are our rock and redeemer.  We have faith in you, your Son, and the Holy Spirit.  Our righteousness comes from you.  We love you and need you.  Amen.
Todd Shupe is a Men's Ministry Specialist through the General Commission of United Methodist Men and is in training to be a Certified Lay Minister through the Louisiana Conference of the United Methodist Church. He currently serves as the President of the Baton Rouge District of United Methodist Men and is a Board Member for Gulf South Men and serves on the Action Team for The Kingdom Group. He is a volunteer for the Walk to Emmaus, Grace Camp, and Iron Sharpens Iron. Todd resides in Baton Rouge, Louisiana.
We welcome your comments below.
Thank you for visiting. We trust that you have enjoyed reading our articles.
Read more below or search for more topics...
What is Truth? "Jesus answered, "I am the way and the truth and the life. No one comes to the Father except through me" (John 14:6 NIV).In today's society there is a constant battle over the truth.  I wonder how can something so simple as the truth be so difficult to understand and agree upon.  Facts are disputed, alternative facts are presented, and various groups all claim to have the truth regarding any issue: social, financial, medical, and even spiritual.You will never grow closer to Christ unless you understand the truth. Growth requires truth.  We might disagree on how to best...

Look Past The Sin To See The Person – Examples From Godly Women "A wife of noble character who can find? She is worth far more than rubies" (Proverbs 31:10 NIV).Women have always been vitally important to Christianity.  Their love and compassion have been recorded since the beginning of time.  When thinking about the beginning, we often think of Eve and her sin of eating from the tree of knowledge of good and evil in the Garden of Eden.  Due to God's grace she still had children and is forever known as the mother of all creation.  But we tend to...

Live Life Now! "Not that I was ever in need, for I have learned how to be content with whatever I have. I know how to live on almost nothing or with everything. I have learned the secret of living in every situation, whether it is with a full stomach or empty, with plenty or little" (Philippians 4:11-12 NLT). I have read this Holy Scripture many times and still struggle to understand it.  I am confused how Paul can essentially have the same joy with plenty or with little.   I have traveled to several developing countries and have witnessed wide spread poverty...