Approach Prayer With Confidence And Thanksgiving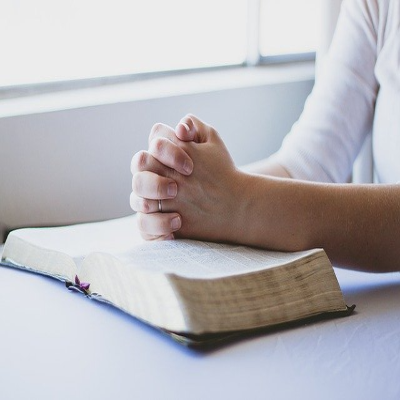 Prayer is an essential component to our relationship with God. We offer prayers for those who are sick or in need of help and prayers of thanksgiving for our blessings. Prayer is also a time for us to be quiet and listen for the gentle voice of God. The Psalmist tells us in Psalm 46:10, "Be still and know that I am God." We all would be wise to focus on this promise while we wait on the Lord."
Even if I don't hear a response to my prayer, I can still come away with peace and comfort knowing that God is God and He loves me more than I can begin to understand.  His presence and promises can give us a peace that transcends all understanding.
It is important for us to approach prayer in the right manner.  The Bible tells us what to pray — "The Lord's Prayer" (Matthew 6:9-13) — and also where to pray – "In your room," (Matthew 6:6).  However, it does not necessarily tell us how to prepare for prayer.
Good works are how we show Christian love to others.  However, our works should flow naturally as a result of our love for Christ and our desire to share His love.  Ephesians 2:8-9, teaches us, "8 For it is by grace you have been saved, through faith—and this is not from yourselves, it is the gift of God— 9 not by works, so that no one can boast."
I think too many Christians approach prayer in one of two ways. First, many come to God in fear and doubt. We know that God can do what we are asking — but are fearful that He will not do it as we want or when we want.
The second group of Christians I refer to as the "Santa Claus Christians." They think that if they are good all year then when they make a prayer request to God that He is "obligated" to do as asked. In both cases, resentment can develop if God does not provide what is asked and when it is asked.
It is important at this point to note that we follow God. God does not follow us, and this fact provides the opportunity to tell the story of God leading His people in Exodus 13:21-22. "By day the Lord went ahead of them in a pillar of cloud to guide them on their way and by night in a pillar of fire to give them light, so that they could travel by day or night."
I encourage you to approach prayer with confidence and thanksgiving that God already knows what you need and is already at work in delivering it to you.  Also, what He provides will likely not be what you requested. Instead, it will be better and it will be a holy blessing upon you. God loves you more than you can ever understand.
He will most certainly listen and respond to your prayers. We must be open to His response and accept it with gladness and thanksgiving because any gift from God is precious and holy — as was His son.
Prayer: Dear God, Thank you for the blessing of prayer and may we always be grateful for this means of grace.
Todd Shupe is a Men's Ministry Specialist through the General Commission of United Methodist Men and is in training to be a Certified Lay Minister through the Louisiana Conference of the United Methodist Church. He currently serves as the President of the Baton Rouge District of United Methodist Men and is a Board Member for Gulf South Men and serves on the Action Team for The Kingdom Group. He is a volunteer for the Walk to Emmaus, Grace Camp, and Iron Sharpens Iron. Todd resides in Baton Rouge, Louisiana.
We welcome your comments below.
Thank you for visiting. We trust that you have enjoyed reading our articles.
Read more below or search for more topics...
Promise Keepers Is Improving Lives "If you make a vow to the Lord your God, do not be slow to pay it, for the Lord your God will certainly demand it of you and you will be guilty of sin.  But if you refrain from making a vow, you will not be guilty.  Whatever your lips utter you must be sure to do, because you made your vow freely to the Lord your God with your own mouth" (Deuteronomy 23:21-23 NIV). In a world where regular church attendance seems to have taken a back seat to simply not being inconvenienced, it's important...

Finding the Fruits of the Spirit "If we live in the Spirit, let us also walk in the Spirit.  Let us not be desirous of vain glory, provoking one another, envying one another" (Galatians 5:25-276 KJV).I love to watch St. Louis Cardinals baseball games on television.  I played little league baseball but knew at a very young age that I would never play professional baseball at any level.  I simply did not have the talent.  It was not "in" me.  I had the gift of a strong arm.  However, it was not the strongest by far and when combined with an...

A Ministry Making a Positive Impact - The KINGDOM Group! I want to bring to your attention to a ministry that is making a positive impact in locally and nationally.  The KINGDOM Group International, Inc. is a Baton Rouge based organization that is successfully addressing racial and cultural divisiveness.  For the past 3 years this ministry has held meetings and special events that have resulted in very positive changes in the area of unity and reconciliation.Giving a SINGLE GIFTin any amount; orBecoming a MONTHLY DONORof $10, $25, $50, $100 or any amount; orBy giving an "IN-KIND GIFT"(office space, equipment or supplies, volunteering, other donations,...