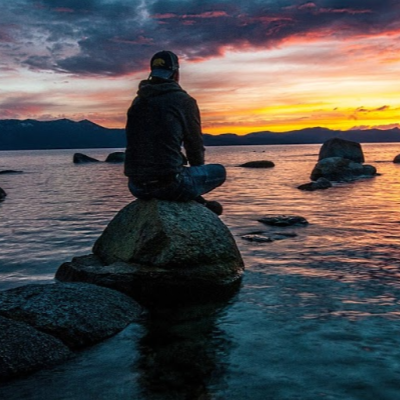 Loneliness Can Lead to Ministry
"It is not good for the man to be alone"  (Genesis 2:18 NIV).
We were all made to live in community.  How can we "encourage one another and build each other up" (1 Thessalonians 5:11) if we are isolated from others?  Loneliness is not just a problem for older adults.  Younger adults that are single parents or divorced may experience loneliness when the children move out of the house.  Some have ridiculed the lonely and called them weak.  This is wrong and cruel.   It is wrong because most of society has confused weakness with meekness.   Jesus was meek but, He was certainly not weak. 
Perhaps what we know as loneliness is really a need for us to better understand God.   Deuteronomy 31:6 teaches, "Be strong and courageous. Do not be afraid or terrified because of them, for the Lord your God goes with you; He will never leave you nor forsake you."  We are never alone because the Holy Spirit is always in us and with us. 
How we handle our loneliness is important not only for our spiritual health but also for our physical health.  Our actions also serve as a powerful witness to others – both Christians and non-believers.  Paul modeled for us in 2 Timothy 4 how to handle loneliness.  As he was alone in prison and waiting to be executed, Paul wrote to Timothy and asked him, "When you come, be sure to bring the coat I left with Carpus at Troas. Also bring my books, and especially my papers" (2 Timothy 4:13). 
At first glance you make think this is trivial stuff (books, papers, and a coat).  However, there are great lessons there for us all.  Paul needed a coat because he wanted to take care of physical health.  History teaches us that Roman prisons were damp, dark, and cold.  Yes, he was lonely, but he knew it was important to take care of himself.  Paul wanted his books and papers to use his time productively.  The prison epistles of Ephesians, Philippians, Colossians, and Philemon are so named because they were written by the apostle Paul during one of his incarcerations.  These books are a valuable part of the New Testament. 
If you are feeling lonely, you need to become comfortable and productive.  We can't do anything if we don't take care of our physical health.  Then, we are in a position to focus our efforts outward (local missions, volunteer, small groups, etc.) which will give us a sense of community.  The temptation is to do nothing, complain, or become bitter, but none of these are productive.  The real truth is that you will also benefit when you give your time to serve others.  The receiver of ministry is blessed, but the one providing the ministry is also blessed as well.
Speaking of Paul, he wrote the following about giving to the church in Corinth.  "Remember this: Whoever sows sparingly will also reap sparingly, and whoever sows generously will also reap generously. Each of you should give what you have decided in your heart to give, not reluctantly or under compulsion, for God loves a cheerful giver. And God is able to bless you abundantly, so that in all things at all times, having all that you need, you will abound in every good work" (2 Corinthians 9:6-8).  Remember giving is not just about money.  It also includes giving our time to serve others.  Be well, be a cheerful giver, and be blessed. 
Prayer:  Dear God:  Thank you for the Holy Spirit that is always in us and with us.  There is no where we can go in which you are not with us.  Amen.
Todd Shupe is a Men's Ministry Specialist through the General Commission of United Methodist Men and is in training to be a Certified Lay Minister through the Louisiana Conference of the United Methodist Church. He currently serves as the President of the Baton Rouge District of United Methodist Men and is a Board Member for Gulf South Men and serves on the Action Team for The Kingdom Group. He is a volunteer for the Walk to Emmaus, Grace Camp, and Iron Sharpens Iron. Todd resides in Baton Rouge, Louisiana.
We welcome your comments below.
Thank you for visiting. We trust that you have enjoyed reading our articles.
Read more below or search for more topics...
Do You Know A Proverbs 31 Woman? I Do! "When you give to the poor, it is like lending to the LORD, and the LORD will pay you back" (Proverbs 19:17 GNT). Scripture is full of stories of women that have played essential roles in advancing the work of our Lord.  These prominent women include the Matriarchs Sarah, Rebecca, Rachel, and Leah, Miriam the prophetess, Deborah the judge, Huldah the prophetess, Rahab, Esther, and many more.  Many of these women are recognized in the Faith Hall of Fame found in Hebrews 11. Proverbs 31 describes the many virtues of Godly woman.  The Proverbs 31 woman can be commended for all the wonderful things she...

The Heart of a Child is the Key to Heaven "And they were bringing children to him that he might touch them, and the disciples rebuked them. But when Jesus saw it, he was indignant and said to them, "Let the children come to me; do not hinder them, for to such belongs the kingdom of God. Truly, I say to you, whoever does not receive the kingdom of God like a child shall not enter it." And he took them in his arms and blessed them, laying his hands on them" (Mark 10:13-16 ESV). There is no greater gift from God...

A Ministry Making a Positive Impact - The KINGDOM Group! I want to bring to your attention to a ministry that is making a positive impact in locally and nationally.  The KINGDOM Group International, Inc. is a Baton Rouge based organization that is successfully addressing racial and cultural divisiveness.  For the past 3 years this ministry has held meetings and special events that have resulted in very positive changes in the area of unity and reconciliation.Giving a SINGLE GIFTin any amount; orBecoming a MONTHLY DONORof $10, $25, $50, $100 or any amount; orBy giving an "IN-KIND GIFT"(office space, equipment or supplies, volunteering, other donations,...