"Fathers, do not exasperate your children; instead, bring them up in the training and instruction of the Lord" (Ephesians 6:4).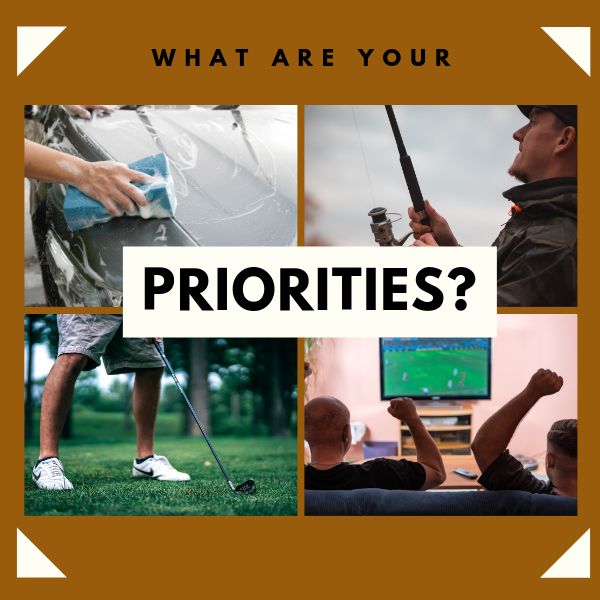 We men have numerous options on how we can spend our time.  As Americans we live in a free country.  Many of us have hobbies such as golf, fishing, gardening, etc.  These are great activities for our badly needed sabbath. 
However, hobbies can become obsessions and dominate our time.  Wherever you invest the most time, money, and thought is your priority.  You alone have the power to set your priorities.  Either you choose your priorities, or the world will choose for you.  We all have a finite number of hours in each day and a finite number of days on this earth, but we don't all use our time wisely.  I continue to struggle with this. 
I have seen men that spend all their free time consumed with a hobby.  They are nourishing their hobby with time, money, and thought.  The hobby becomes a false god and the family suffers.  I wonder what kind of world we would have if men nourished their relationships with God and their family more than anything else – work, hobbies, etc. 
An authentic priority gives meaning to life.  As fathers, our priority should be to love God, love your wife, and love your children.  In fact, our first priority is to God, then to your wife, and then to your children.  A man that loves God with all his heart and with all his soul and with all his strength and with all his mind (Luke 10:27), will surely love his wife as Christ loved His church (Ephesians 5:25).  Also, a Godly man will want to work with his wife to raise their children in the training and instruction of God (Ephesians 6:4).
In order to truly determine your current priorities, take out a sheet of paper and make three columns.  One column will represent money, another will represent thoughts, and another will represent time.  Then list your favorite five items or activities in each column.  Then, look at each column and decide which of the five is the most important to you and circle it.  Now, you have identified your true priorities.  If you are satisfied with what you see, then that is good.  If not, it is time to rethink your priorities.
Matthew 6:19-21 teaches us, "Do not store up for yourselves treasures on earth, where moths and vermin destroy, and where thieves break in and steal.  But store up for yourselves treasures in heaven, where moths and vermin do not destroy, and where thieves do not break in and steal. For where your treasure is, there your heart will be also."  A Godly man's heart is in heaven, and his greatest desire is to see that his wife and children's hearts are next to his.
Prayer:  Dear God:  We thank you for the blessing of children.  Help us to raise our children to understand that you are their Father and all glory and honor belongs to you.  Amen.
Todd Shupe is a Men's Ministry Specialist through the General Commission of United Methodist Men and is in training to be a Certified Lay Minister through the Louisiana Conference of the United Methodist Church. He currently serves as the President of the Baton Rouge District of United Methodist Men and is a Board Member for Gulf South Men and serves on the Action Team for The Kingdom Group. He is a volunteer for the Walk to Emmaus, Grace Camp, and Iron Sharpens Iron. Todd resides in Baton Rouge, Louisiana.
We welcome your comments below.
Thank you for visiting. We trust that you have enjoyed reading our articles.
Read more below or search for more topics...
Attention Men: Insecurity and Jealousy Lead to Problems! "Saul was afraid of David, because the Lord was with him but had left Saul.  So Saul made David go away from him, and had him lead a thousand men. And David went out to the people.   David did well in all that he did, because the Lord was with him.  When Saul saw how well he did, he was afraid of him.   But all Israel and Judah loved David, for he went out and came in before them (1 Samuel 18:12-16).Insecurity and jealously has been around since the beginning of time...

All We Can Do Now Is Pray? "The effectual fervent prayer of a righteous man availeth much" (James 5:16 KJV). I was recently talking with a friend of mine whose wife is in hospice care.  He has been keeping in close contact with his pastor and passing along daily medical updates.  Each day the pastor told my friend to "hang in there" and then politely end the conversation.  Eventually her condition became critical and the doctors estimated that she only a few more days to live.  My friend spoke to his pastor that day and relayed the devastation news.  The pastor said,...

Who Is Responsible For My Salvation? "So then, each of us will give an account of ourselves to God" Romans 14:12 (NIV). Throughout the Bible we are encouraged whenever possible to live in peace with our neighbors.  For example, Scripture teaches us to live in harmony (Romans 12:16), carry each other's burdens (Galatians 6:2), and help others in need (Deuteronomy 15:11).   Godly living calls us to turn the other cheek and returning evil with love.  We have the ability, and the Christian joyful obligation, to positively impact each other's spiritual lives.  There is certainly strength in numbers.  You may recall the Scripture...