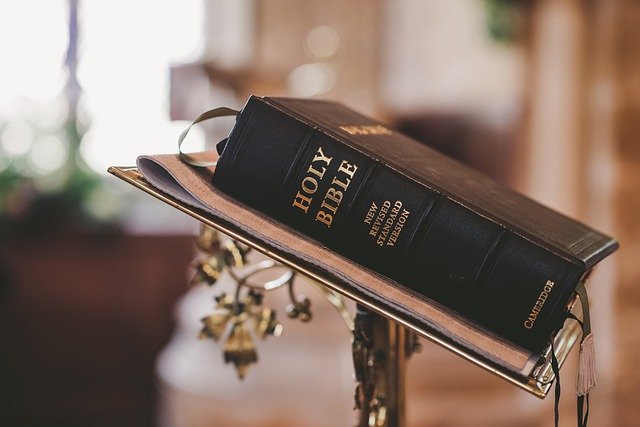 "What good is it, my brothers and sisters, if someone claims to have faith but has no deeds? Can such faith save them? (James 2:14 NIV).
Most surveys show that the vast majority of Americans self-identify as Christians and have faith in God.  This is great, but James 2:14 puts this in context.  "What good is it, my brothers and sisters, if someone claims to have faith but has no deeds? Can such faith save them?"
In my Bible, the heading for Hebrews 11 reads "Faith in Action" and the first verse of chapter 11 teaches, "Now faith is confidence in what we hope for and assurance about what we do not see."
I can tell you that I am a great baseball pitcher, but that self-identification does not necessarily make it true.  James 2:14 is teaching us what is the use of telling others that you have faith if it is not reflected in how you live and what actions you take? 
Please do not be mistaken and think that James is saying we are saved by our works.  Scripture is very clear in this regard that we are saved by faith in Jesus, nothing more and nothing less.  Galatians 2:16 reads, "Yet we know that a person is not justified by works of the law but through faith in Jesus Christ, so we also have believed in Christ Jesus, in order to be justified by faith in Christ and not by works of the law, because by works of the law no one will be justified."  Our actions are a natural manifestation of our faith.  They are the outward fruit.  "For the tree is known and recognized and judged by its fruit" (Matthew 12:33).
Real faith takes action but does so out of love, not obligation or to curry favor with God.  Real faith is different from pseudo faith because the former is active in ministry outside the church and the later simply attends church every Sunday. 
Scripture contains thousands of promises from God to us.  We cannot claim these promises with an insincere faith.  We cannot expect God to hear our prayers if they are not offered in true faith.  And "without faith it is impossible to please God" (Hebrews 11:6). 
So how do we know if we have real faith?  We must look at our actions and see if they are in agreement with our beliefs.  One of the most important things we can do in life is an honest self-evaluation.  It is also one of the more difficult tasks we can do.  But if we can successfully do this, then we can live out the Faith in Action of Hebrews 11.  The right next step is to sit down with your pastor or Christian friend and help them guide you through the process.  You will not regret this decision.
Prayer:  Dear God, Help us to maintain at least the faith of a mustard seed on our darkest days.  Amen. 
Todd Shupe is a Men's Ministry Specialist through the General Commission of United Methodist Men and is in training to be a Certified Lay Minister through the Louisiana Conference of the United Methodist Church. He currently serves as the President of the Baton Rouge District of United Methodist Men and is a Board Member for Gulf South Men and serves on the Action Team for The Kingdom Group. He is a volunteer for the Walk to Emmaus, Grace Camp, and Iron Sharpens Iron. Todd resides in Baton Rouge, Louisiana.
We welcome your comments below.
Thank you for visiting. We trust that you have enjoyed reading our articles.
Read more below or search for more topics...
The Darkness Of Spiritual Blindness "Teach me your way, LORD, that I may rely on your faithfulness; give me an undivided heart, that I may fear your name" (Psalm 86:11 NIV).One of the worst things we can say to another person is to call them a liar.  The words sting because they are often perceived as an attack on the character of the accused.  Yes, the words are often hurtful, but they are always true.  Men, each one of us has at one time fallen short of honesty.   Sin entered the world through the lying words of the serpent, and it...

Book Review: Overcoming Racial And Cultural Barriers To Disciple Men by Rev. Elmo Winters "And hath made of one blood all nations of men for to dwell on all the face of the earth, and hath determined the times before appointed, and the bounds of their habitation" (Acts 17:26 KJV).Each generation faces unique challenges that historians use to define that time period or generation.  There are some challenges that seem to transcend time and linger from one generation to the next.  The issue of race is as old as the Biblical story of the Samaritan woman at the well that...

The Thorn of Divorce "Therefore, to keep me from being too elated, a thorn was given me in the flesh, a messenger of Satan to torment me, to keep me from being too elated.  Three times I appealed to the Lord about this, that it would leave me, but he said to me, "My grace is sufficient for you, for power is made perfect in weakness." So, I will boast all the more gladly of my weaknesses, so that the power of Christ may dwell in me.  Therefore I am content with weaknesses, insults, hardships, persecutions, and calamities for the sake of Christ;...