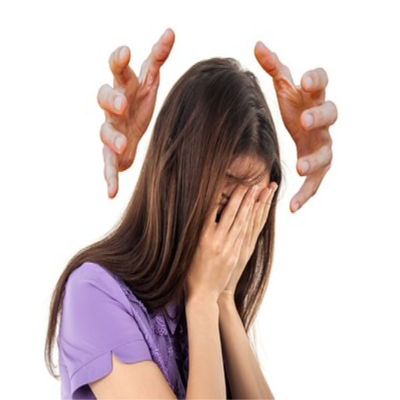 "A good man brings good things out of the good stored up in his heart, and an evil man brings evil things out of the evil stored up in his heart. For the mouth speaks what the heart is full of" (Luke 6:45 NIV).
I think we are all pretty much aware of the importance of good mental health and the power of positive thinking.  However, the importance of our thoughts also has a profound effect on our spiritual health.    This point is made clear in Philippians 4:8. "Finally, brothers and sisters, whatever is true, whatever is noble, whatever is right, whatever is pure, whatever is lovely, whatever is admirable—if anything is excellent or praiseworthy—think about such things."  God is clearly encouraging us to focus our thoughts on things that are good and decent. 
This is important because the mind is a battlefield of positive and negative thoughts.  God is introducing positive thoughts and the enemy is sneaking in lies and negative thoughts.  Both God and satan know the power of our thoughts and hence the battle for control.  Also, both know the Holy Scriptures, although satan will misinterpret and misapply scripture as he did to Jesus after He fasted for forty days in the desert. The importance of our thoughts is evident in Luke 6:45.  "A good man brings good things out of the good stored up in his heart, and an evil man brings evil things out of the evil stored up in his heart. For the mouth speaks what the heart is full of."  This point is further amplified in Proverbs 18:21.  "The tongue has the power of life and death, and those who love it will eat its fruit."  In summary, what goes into the brain is what comes out of the mouth.  Have you ever noticed that over time you begin to take on the accent and other mannerisms of your close friends?  For example, if you visit Boston for an extended period you will likely return with a different accent, particularly if you are actively engaged with the local population.  Feed yourself "spiritual milk" and walk with confidence as the children of God.  Speak words of life to all that you meet, especially those that belong to the body of Christ.
Action step:  Take each thought captive and examine its origin.  Godly thoughts will inspire, encourage, and strengthen you.  Godly thoughts will give you confidence and an inner peace that transcends all understanding.  Thoughts from the enemy will cause discouragement, self-doubt, resentment, worry, and embarrassment over past decisions.  These thoughts are meant to divide and destroy.
Next steps:  Who do you surround yourself with?  What do you read, watch on television and the internet, and listen to on the radio?  What books, newspapers, and magazines are you reading?
Give praise for Godly thoughts and rebuke in the name of Jesus those from the enemy.  Be in the Word and the Word will be in you and you will have the only offensive weapon in the armor of God.  Be actively involved in authentic, confidential, Christian small groups.  Pray for God's protection of your heart, mind, and soul from the enemy.  Moreover, do the same for those you love and those that seek to harm you.
Prayer:  Dear God, Please help us to take each thought captive. Amen.
Todd Shupe is a Men's Ministry Specialist through the General Commission of United Methodist Men and is in training to be a Certified Lay Minister through the Louisiana Conference of the United Methodist Church. He currently serves as the President of the Baton Rouge District of United Methodist Men and is a Board Member for Gulf South Men and serves on the Action Team for The Kingdom Group. He is a volunteer for the Walk to Emmaus, Grace Camp, and Iron Sharpens Iron. Todd resides in Baton Rouge, Louisiana.
We welcome your comments below.
Thank you for visiting. We trust that you have enjoyed reading our articles.
Read more below or search for more topics...
Love Must Be Shown "Now someone may argue, 'Some people have faith; others have good deeds.' But I say, 'How can you show me your faith if you don't have good deeds? I will show you my faith by my good deeds'" (James 2:18 NLT). Some people think faith is a strong belief in something or someone.  Some may argue that it is a concept or a part of theology.  Faith is so much more than any of that.  The second chapter of James teaches us that real faith transforms lives.   2 Corinthians 5:7 is essential in this regard because it tells us, "For...

Can saying 'No' please God? "Therefore, since we are surrounded by such a great cloud of witnesses, let us throw off everything that hinders and the sin that so easily entangles. And let us run with perseverance the race marked out for us" (Hebrews 12:1 NIV). Each day we all get asked by others to do things.  Some tasks are fun, some are mundane, and some are someplace in the middle.  Service to others is an important way in which we show the love of Christ.  Service is ministry.  Service is important.I struggle with saying "no" to help people, especially when the request is...

Purpose And Proper Daily Use Of Prayer "Freedom is what we have—Christ has set us free! Stand, then, as free people, and do not allow yourselves to become slaves again" (Galatians 5:1 GNT). We all have regrets.  A little is natural but when regret paralyzes your ability to enjoy the present, it is a problem.  As Christians we are not called to be timid and regretful.   Our calling, as detailed in Joshua 1, is to be "strong and courageous."As Joshua 1 begins, the Israelites are camped along the east bank of the Jordan River.  Forty years earlier the Israelites had an opportunity...