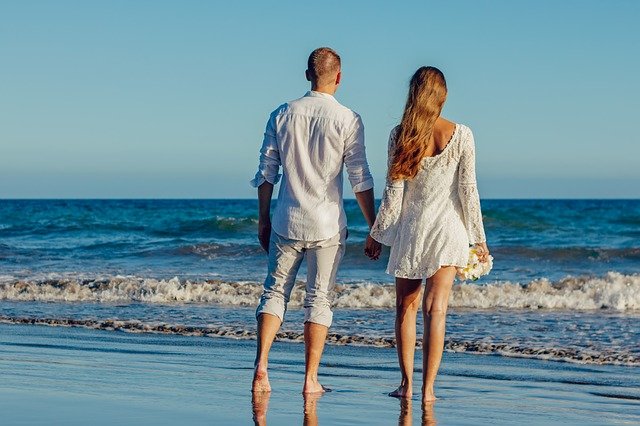 … "For this reason a man will leave his father and mother and be united to his wife, and the two will become one flesh" (Matthew 19:5 NIV).
Several years ago, I was talking with a female friend, let's call her Sally, about marriage.  Sally told me an interesting story about her first marriage.  Sally got married many years ago to her first husband.  Her father, let's call him Dick, did not like her husband because he was a "loser."  Sally was very close to Dick, and he was always her first phone call when she needed advice on anything. 
A few weeks after she got married, Sally called her father for advice.  Sally told me what sort of advice she was seeking from her father, but I forget the details.  What is more important, to me, is the response she got from her father.  Dick calmly and politely responded to her question, "Have you asked your husband about this?"  She indicated to her father that she had not asked her husband about the situation.  The father said, "Honey, you have a husband now so go ask him." 
Sally's father was not a deeply religious man.  He had been the main man in his daughter's life for her entire life.  Remember, he did not like her new husband.  However, he wanted what is best for his daughter so he did everything he could do to support her and her marriage.  Sally's father had always loved her and would continue to love her.  I think it was because of his love for Sally that he realized the best way he could support his daughter's marriage was to let her know that "she has a husband now."
Sally's father had many reasons, some valid and some invalid, to not like her new husband.  He had advised her before the wedding to not get married.  However, he knew that a marriage bond is sacred so after the wedding he kept his thoughts regarding his son in law to himself and did his best to be kind and pleasant to his daughter's new husband.  Sally's father wanted to give unsolicited advice to Sally and her husband regarding how things should be done in their house.
Again, Sally's father was not a close follower of Jesus.  However, he knew that he did not want another man to undermine his authority in his house, so he knew he had to respect the authority of his new son in law.  Perhaps he had attended Sunday school as a young boy and remembered the Gospel lesson of a house divided cannot stand. 
Perhaps Sally told me this story because she knew I had a young daughter, and she knew that I love my daughter with all my heart.  I wonder if Sally was giving me a warning to prepare myself to take a step back if and when my daughter gets married.  I want my daughter to have a husband.  I know that any husband that she finds will be a sinner, and my initial reaction will to be find fault in him and try to maintain "control."  So, I have decided to control what I can control, what I should control.  I will control my words.  Also, I will control my prayers and begin praying now that God will send a husband for my daughter that will love, provide, protect, and lead her spiritually in far better ways that I ever could or did. 
As men, many of have jobs in which we have some sort of control over people, budgets, or projects.  At home, many men have control over their young children, and this may continue later in life for unmarried daughters.  Men don't like to be told what to do, but some fathers have no problem telling their married daughter and son in laws what to do because of a deep-rooted desire to maintain control of their daughter. 
I completely understand this desire for control.  I have a beautiful, intelligent, and kind daughter and will always view my daughter as a sweet and innocent child, and I would love to "control" her in an attempt to protect her.  But, as much as I want to have control over her life, I realize that is futile because that is not in her best interest or mine.  I want to be available to give advice, when asked and with respect to any future husband, but I want to raise my daughter in such a way that she will be able to make wise decisions without me because someday I won't be here.    
Matthew 19:5 teaches that "….a man will leave his father and mother and be united to his wife, and the two will become one flesh."  The same is true for a woman.  She will also leave her father and mother and become one flesh with her husband.  There is a leaving and cleaving that occurs during marriage.  As we leave our parents, we still love them and regularly talk and visit with them, but they no longer have access to the inner workings of our lives, marriage, or our new family regardless if they demand access or feel entitled to private information.  The marriage consists of three – husband, wife, and God. 
It is understandable for a daughter to want to cling to her father after marriage.  The love for any child for a parent is strong and should be respected.  However, it is not respectful for a father to allow his daughter to cling to him once she is married or to continue to demand control over his daughter once she is married.  Fathers can support their daughter and her marriage by keeping negative opinions and unsolicited advice to themselves.  I hope I can do this if and when my daughter gets married.  I know that the time to speak my peace is before the wedding, not after.
Ladies, remember, once you are married, you have a husband now.  Fathers, remember, once your daughter is married, she has a husband now. 
Prayer:  Thank you for the Holy Covenant of marriage.  Help us as husbands to love our wives as you so loved your church.  Help us as fathers to best support our daughters by recognizing the sacredness of their marriage.  Help us as brides to remember that once we are married, we have a husband now.  Amen. 
Todd Shupe is a Men's Ministry Specialist through the General Commission of United Methodist Men and is in training to be a Certified Lay Minister through the Louisiana Conference of the United Methodist Church. He currently serves as the President of the Baton Rouge District of United Methodist Men and is a Board Member for Gulf South Men and serves on the Action Team for The Kingdom Group. He is a volunteer for the Walk to Emmaus, Grace Camp, and Iron Sharpens Iron. Todd resides in Baton Rouge, Louisiana.
We welcome your comments below.
Thank you for visiting. We trust that you have enjoyed reading our articles.
Read more below or search for more topics...
Finding Peace in Times of Adversity "Cast all your anxiety on Him because He cares for you" (1 Peter 5:7 NIV ). We learn at a young age that there are two things certain in life - death and taxes.  I would add a third to that list:  adversity.  We all have experienced some form of adversity in our life from death of a family member, loss of a job, divorce, etc.  My first real experience with adversity was when I was 9 years old and my sister died in a car crash.  My Christian roots were shallow and so my coping skills...

Priorities "Fathers, do not exasperate your children; instead, bring them up in the training and instruction of the Lord" (Ephesians 6:4). We men have numerous options on how we can spend our time.  As Americans we live in a free country.  Many of us have hobbies such as golf, fishing, gardening, etc.  These are great activities for our badly needed sabbath. However, hobbies can become obsessions and dominate our time.  Wherever you invest the most time, money, and thought is your priority.  You alone have the power to set your priorities.  Either you choose your priorities, or the world will choose for you.  We all...

The Traits Of True Leadership "Not so with you. Instead, whoever wants to become great among you must be your servant" (Matthew 20:26 NIV). If you are like me, you have seen several books on leadership. The books are typically authored by successful CEOs of large companies or military leaders. These books are often best-sellers and contain very useful information on the principles of secular leadership. The themes are typically along the lines of this: A leader is a visionary. A leader knows how to delegate. A leader surrounds himself/herself with good people. A leader leads by example. A leader is trustworthy....