Defeating the Giants in our Lives
"David said to the Philistine, "You come against me with sword and spear and javelin, but I come against you in the name of the Lord Almighty, the God of the armies of Israel, whom you have defied.  This day the Lord will deliver you into my hands, and I'll strike you down and cut off your head. This very day I will give the carcasses of the Philistine army to the birds and the wild animals, and the whole world will know that there is a God in Israel"   (1 Samuel 17:45-46 NIV).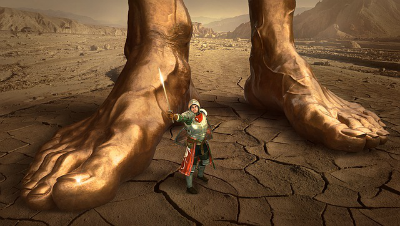 David was a young boy when he defeated the giant Goliath of the Philistine army.  This is one of the most well-known stories in the Bible.  I was intrigued with the mental pictures in my brain when I first heard this story as a young boy. 
Now, as an adult I return to this story to see what the Living Word can teach me today.  I think most men have giants that are keeping them from being the man God 
wants them to be.  If you want to reach your full spiritual potential and enjoy the fruits of a life well lived, then it is time to step out in faith to defeat the giants in your life. 
Remember how God has helped you in the past
When you remember the ways that God has helped you in the past, it gives you confidence for the future. David says in 1 Samuel 17:37, "The Lord who rescued me from the claws of the lion and the bear will rescue me from this Philistine!"

 

Use the tools that God has given you
David used the tools that God provided that utilized his strengths. "Then Saul gave David his own armor . . . 'I can't go in these,' he protested to Saul. 'I'm not used to them.' So David took them off again. He picked up five smooth stones from a stream and put them into his shepherd's bag"(1 Samuel 17:38-40). We tend to wait for something we don't have such as money, education, or connections.  God has already given you the tools to face your giants with confidence.  We need to step out in confidence knowing that God if God is with us, then who can be against us? (Romans 8:31).
Ignore the naysayers
Later in life, when others were speaking against him, David had to encourage himself in the Lord: "David was seriously worried, for in their bitter grief for their children, his men began talking of killing him. But David took strength from the Lord"(1 Samuel 30:6). When you encourage yourself in the Lord, it's not just a positive mental attitude. There is power in God's grace, provision, and security.  David writes in Psalm 23:4, "Even though I walk through the darkest valley, I will fear no evil, for you are with me."
Expect God to help you for His glory
David stormed the battlefield, shouting, "You come against me with sword and spear and javelin, but I come against you in the name of the Lord Almighty . . . This day the Lord will deliver you into my hands . . . and the whole world will know that there is a God in Israel"(1 Samuel 17:45-46). God will use anybody who will trust him and expect to be used by him — not because of who we are, but for His glory.
Prayer:  We come to you today with giants in our lives.  Each one is different but each one is similar in that it is keeping us from being the person that you desire us to be.  Help us dear God to step out from worry and step into faith.  Grant us the confidence that you are with us.  Amen.
Todd Shupe is a Men's Ministry Specialist through the General Commission of United Methodist Men and is in training to be a Certified Lay Minister through the Louisiana Conference of the United Methodist Church. He currently serves as the President of the Baton Rouge District of United Methodist Men and is a Board Member for Gulf South Men and serves on the Action Team for The Kingdom Group. He is a volunteer for the Walk to Emmaus, Grace Camp, and Iron Sharpens Iron. Todd resides in Baton Rouge, Louisiana.
We welcome your comments below.
Thank you for visiting. We trust that you have enjoyed reading our articles.
Read more below or search for more topics...
The Best New Year's Resolution "Do not conform to the pattern of this world, but be transformed by the renewing of your mind. Then you will be able to test and approve what God's will is—His good, pleasing and perfect will" (Romans 12:2 NIV). January is the time for New Year's resolutions, right?  I am considering joining a gym and need to get in better physical shape.  You may seek to spend more time with family, find a new job, etc.  All of these are fine goals.  I read a recent article that indicated that most New Year's resolutions will be abandoned...

The Power of Prayer "The priests and the Levites stood to bless the people, and God heard them, for their prayer reached heaven, His holy dwelling place." (2 Chronicles 30:27 NIV) It is important to understand that the power of prayer does not come from us.  Prayer is not special words we say or the special way we say them or even how often we say them.  The length of our prayer is also not important.  Powerful prayer is not made by standing on the street corner with dirt on your face or any other means to show others your piety.  The...

A Quest For Peace "Do not be anxious about anything, but in every situation, by prayer and petition, with thanksgiving, present your requests to God.  And the peace of God, which transcends all understanding, will guard your hearts and your minds in Christ Jesus" (Philippians 4:6-7 NIV). For most of us we want nothing more than peace.  However, there are some that seem to thrive in drama and chaos, but I suspect that if they ever embraced the kind of peace that Jesus offers, they would likely have a different outlook on life.  As I think about those that seem to be void of peace,...