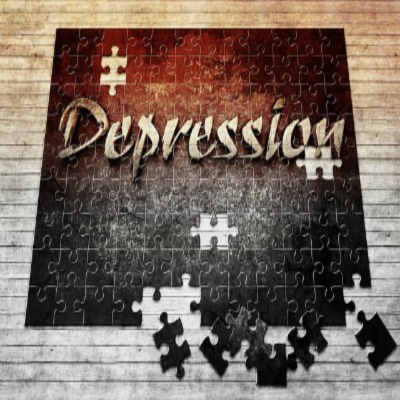 A Christian Approach to Depression
"It is the Lord who goes before you. He will be with you; He will not leave you or forsake you. Do not fear or be dismayed" (Deuteronomy 31:8 ESV).
God has blessed us with the Living Word known as the Holy Bible.   We can turn to the Bible for advice and instruction for our worries and problems.  Some may feel that the Bible is too old to be relevant today.  However, many, if not all, of our issues of today are essentially the same as when Jesus walked the earth.  We learn from Ecclesiastes 1:9, "What has been will be again, what has been done will be done again; there is nothing new under the sun."
One of the most prevalent problems facing our society today is depression.  Antidepressant prescribing has risen nearly 400% since 1988, according to data from the Centers for Disease Control and Prevention (CDC).  The story of Elijah in 1 Kings 18-19 is a fascinating example of how God dealt with His servant when he was depressed.
Elijah means "The LORD is my God," and as a prophet he adamantly shared God's message and warnings.  The Jews were turning to false gods, and he shared his warning.  "Elijah came near to all the people, and said, "How long will you waver between the two sides? If Yahweh is God, follow him; but if Baal, then follow him" (1 Kings 18:21).
In 1 Kings 19 we read of Elijah fleeing from the evil Jezebel.  She was the wife of Ahab, King of Israel.  Elijah was overcome with depression and requested that he might die, and said, "It is enough. Now, O Yahweh, take away my life; for I am not better than my fathers" (1 Kings 19:4).
Elijah was so frightened by Jezebel's threat to kill him that he flees to Mt. Horeb (Sinai).  He takes rest under a broom tree and the word of the Lord came to him and asked, "What are you doing here, Elijah" (1 Kings 19:9)?  God is omniscient and clearly knew what Elijah was doing, but He was modelling for us how to help a depressed person.
1.
2.
God met him where he was.  He did not wait for Elijah to come to Him.
He asked questions and listened.  The questions were crafted to lead to self-examination.  God did not offer quick answers.  God's actions were in accordance with James 1:19.  "Everyone should be quick to listen, slow to speak and slow to become angry."
We should be mindful of people that are disappointed because if disappointment is left unresolved it will lead to discouragement which is a step away from depression.  The pharmaceutical industry has done tremendous things for people.  However, I encourage us all to be proactive and seek out our brothers and sisters that are disappointed and turn them toward the lift of Christ and away from the darkness that leads to depression.
Prayer:  If someone reading this is in need of help, please provide it.  If someone reading this is not in need of help, open their eyes to the disappointment, discouragement, and depression that is present all around us and help them to meet those in need wherever they are in need.  Help us to show your love by being present and quick to listen.  Amen.
Meet the Author
Todd Shupe is a Men's Ministry Specialist through the General Commission of United Methodist Men and is in training to be a Certified Lay Minister through the Louisiana Conference of the United Methodist Church. He currently serves as the President of the Baton Rouge District of United Methodist Men and is a Board Member for Gulf South Men and serves on the Action Team for The Kingdom Group. He is a volunteer for the Walk to Emmaus, Grace Camp, and Iron Sharpens Iron. Todd resides in Baton Rouge, Louisiana.
We welcome your comments below.
Thank you for visiting. We trust that you have enjoyed reading our articles.
Liked this post?
Read more below or search for more topics…


Thanksgiving Is Not Just For November
"Whatever happens, give thanks, because it is God's will in Christ Jesus that you do this" (1 Thessalonians 5:18 GW).I love Thanksgiving!  It is a fun time of year to get together with family, eat some great home cooked meals, and watch football.  Thanksgiving is a time for us to reflect on the past year and identify things which we are thankful.  In some families, they go around the table and each person states one or two things for which they are thankful. God has blessed us with many emotions with which we can express ourselves. …
Read More



Be The Same Person Everywhere
"I hate double-minded people, but I love your law" (Psalm 119:113).
Have you ever heard of the term "Sunday morning Christian?"  This is a derogatory term for people that are Christian on Sunday morning but the complete opposite the rest of the week.  Some of us are a little bit better and we make sure to "act Christian" in public but not in private.  The "Sunday morning Christian" and the "public Christian" are both hypocrites.
The word hypocrite ultimately came into English from the Greek word hypokrites, which means "an actor" or "a stage player." The Greek word…
Read More



Open My Eyes
"When He was at the table with them, He took bread, gave thanks, broke it and began to give it to them. Then their eyes were opened and they recognized Him, and He disappeared from their sight. They asked each other, "Were not our hearts burning within us while He talked with us on the road and opened the Scriptures to us?" (Luke 24:30-32 NIV).The title of this blog makes me recall the two men walking with Jesus on the road to Emmaus.  After walking and talking with Him all day, they did not know they were with…
Read More