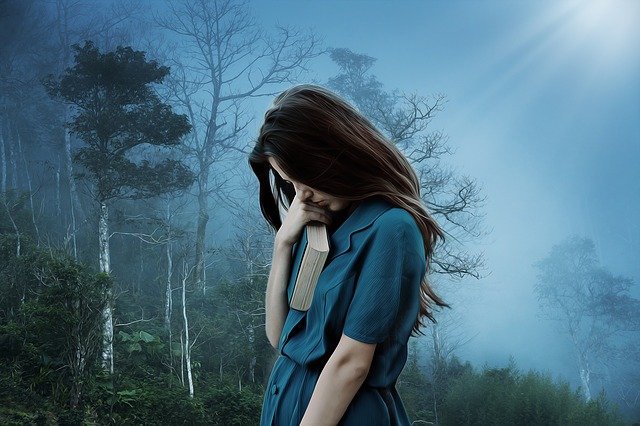 "A broken spirit who can bear it?" (Proverbs 18:14 NASB).
One of the many names for Jesus was The Great Physician.  His fingerprints are evident every day when people are healed of terrible diseases.  The healing may come in the form of restoration of our current life or renewal to an enteral life in His presence.
One area that medicine cannot heal is a broken spirit.  We have wonderful counselors and medications for mental health that can be helpful, and I would never diminish the benefit of mental health professionals and medication.   It may appear that these medications and counselors are from the secular world.  However, James 1:17 teaches us, "Every good and perfect gift is from above, coming down from the Father of the heavenly lights, who does not change like shifting shadows."
Proverbs 18:14 is essentially telling us that we cannot bear a broken spirit.  Furthermore, we cannot heal a broken spirit.  God alone can mend a broken spirit.
"A broken spirit comes from a broken heart," said the late Dr. Myles Munroe, a evangelist, author, speaker and leadership consultant. "When you have had your soul torn, it affects your entire life. It causes you to have a depressed spirit. The trauma of a broken spirit is very real, and it is almost hellish in the sense that no one can save you from it. God is the only one who can repair a spirit."
Dr. Linda Mintle, a nationally recognized author and speaker with an impressive list of television and radio credits, says, "Nothing in God's economy is beyond repair. God does His best work with broken pieces. If you look in the Bible, He takes people who are broken and wounded, and He restores them and uses them mightily. With faith and a belief in Jesus Christ, you can be totally transformed and free. That is a promise."
In the Sermon on the Mount, Jesus began with two blessings.  "Blessed are the poor in spirit, for theirs is the kingdom of heaven.  Blessed are those who mourn, for they will be comforted."  As we feel broken hearted, we are more likely to also feel humble.  The Bible says, "God opposes the proud but gives grace to the humble" (James 4:6)."  Our God will pour out His blessing and race on the broken hearted that seek Him in humility.  The blessing of our heavenly Father is even more powerful than the blessing that Isaac bestowed upon Jacob in Genesis 27:27-29.
The Bible contains countless Scripture in which God promises to save anyone whose spirit is broken and bruised.  One of my favorites is, "The LORD is close to the brokenhearted and saves those who are crushed in spirit" (Psalm 34:18).  God is revealing Himself as the true source of healing and renewal.
Prayer:  Dear God, You know what it feels like to be rejected, alone, and outcast.  Help us to feel your presence and stand firm on your promises as we pass through dark times.  Amen.
Todd Shupe is a Men's Ministry Specialist through the General Commission of United Methodist Men and is in training to be a Certified Lay Minister through the Louisiana Conference of the United Methodist Church. He currently serves as the President of the Baton Rouge District of United Methodist Men and is a Board Member for Gulf South Men and serves on the Action Team for The Kingdom Group. He is a volunteer for the Walk to Emmaus, Grace Camp, and Iron Sharpens Iron. Todd resides in Baton Rouge, Louisiana.
We welcome your comments below.
Thank you for visiting. We trust that you have enjoyed reading our articles.
Read more below or search for more topics...
Real Men Cry "Jesus wept."  John 11:35 (NIV) Popular culture has given us a false impression of what is a real man.  Many current television shows portray fathers or men in general as goofy, nerds, or jerks.  When I was a child I thought real men were the cowboys I saw in movies or television shows.  They were tough, didn't need anybody, and knew how to fight and win.  Today, rap music portrays men as pimps, drug dealers, and absentee fathers. None of these are accurate descriptions of real men.  Yes, sadly this does portray some men but not a Godly man.  A...

What Can Grasshoppers and Mustard Seeds Teach Us About Fear? "The Lord himself goes before you and will be with you; He will never leave you nor forsake you. Do not be afraid; do not be discouraged" (Deuteronomy 31:8 NIV). Fear is our natural response to physical or emotional danger.  Fear can be healthy to help us avoid dangerous situations.  We often fear situations that are not as serious as we perceive, which can trigger an extreme, and often unnecessary, fight-flight-or-freeze response. As a result, we may find ourselves avoiding challenges that could benefit them in the long run or hanging back during social...

What Does The Bible Teach About Race Relations? "And hath made of one blood all nations of men for to dwell on all the face of the earth, and hath determined the times before appointed, and the bounds of their habitation" (Acts 17:26 KJV). We have had problems in this country with race relations for many years. The Civil Rights Act of 1964 was a landmark civil rights and federal labor law in the United States, which outlaws discrimination based on race, color, religion, sex or national origin. In recent years, untold news reports have documented the civil unrest in New York...