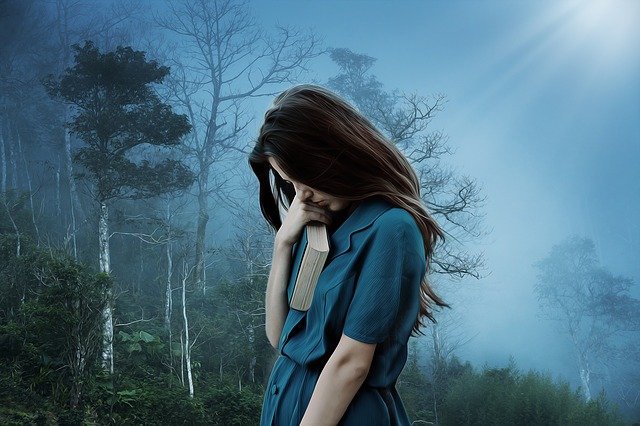 "A broken spirit who can bear it?" (Proverbs 18:14 NASB).
One of the many names for Jesus was The Great Physician.  His fingerprints are evident every day when people are healed of terrible diseases.  The healing may come in the form of restoration of our current life or renewal to an enteral life in His presence.
One area that medicine cannot heal is a broken spirit.  We have wonderful counselors and medications for mental health that can be helpful, and I would never diminish the benefit of mental health professionals and medication.   It may appear that these medications and counselors are from the secular world.  However, James 1:17 teaches us, "Every good and perfect gift is from above, coming down from the Father of the heavenly lights, who does not change like shifting shadows."
Proverbs 18:14 is essentially telling us that we cannot bear a broken spirit.  Furthermore, we cannot heal a broken spirit.  God alone can mend a broken spirit.
"A broken spirit comes from a broken heart," said the late Dr. Myles Munroe, a evangelist, author, speaker and leadership consultant. "When you have had your soul torn, it affects your entire life. It causes you to have a depressed spirit. The trauma of a broken spirit is very real, and it is almost hellish in the sense that no one can save you from it. God is the only one who can repair a spirit."
Dr. Linda Mintle, a nationally recognized author and speaker with an impressive list of television and radio credits, says, "Nothing in God's economy is beyond repair. God does His best work with broken pieces. If you look in the Bible, He takes people who are broken and wounded, and He restores them and uses them mightily. With faith and a belief in Jesus Christ, you can be totally transformed and free. That is a promise."
In the Sermon on the Mount, Jesus began with two blessings.  "Blessed are the poor in spirit, for theirs is the kingdom of heaven.  Blessed are those who mourn, for they will be comforted."  As we feel broken hearted, we are more likely to also feel humble.  The Bible says, "God opposes the proud but gives grace to the humble" (James 4:6)."  Our God will pour out His blessing and race on the broken hearted that seek Him in humility.  The blessing of our heavenly Father is even more powerful than the blessing that Isaac bestowed upon Jacob in Genesis 27:27-29.
The Bible contains countless Scripture in which God promises to save anyone whose spirit is broken and bruised.  One of my favorites is, "The LORD is close to the brokenhearted and saves those who are crushed in spirit" (Psalm 34:18).  God is revealing Himself as the true source of healing and renewal.
Prayer:  Dear God, You know what it feels like to be rejected, alone, and outcast.  Help us to feel your presence and stand firm on your promises as we pass through dark times.  Amen.
Todd Shupe is a Men's Ministry Specialist through the General Commission of United Methodist Men and is in training to be a Certified Lay Minister through the Louisiana Conference of the United Methodist Church. He currently serves as the President of the Baton Rouge District of United Methodist Men and is a Board Member for Gulf South Men and serves on the Action Team for The Kingdom Group. He is a volunteer for the Walk to Emmaus, Grace Camp, and Iron Sharpens Iron. Todd resides in Baton Rouge, Louisiana.
We welcome your comments below.
Thank you for visiting. We trust that you have enjoyed reading our articles.
Read more below or search for more topics...
The Walk to Emmaus: The Best Spiritual Weekend Retreat "When he was at the table with them, he took bread, gave thanks, broke it and began to give it to them. Then their eyes were opened and they recognized him, and he disappeared from their sight. They asked each other, "Were not our hearts burning within us while he talked with us on the road and opened the Scriptures to us?" (Luke 24:30-32 NIV).The Walk to Emmaus "Walk" is a three-day spiritual retreat that came out of the Roman Catholic Cursillo movement. The Walk to Emmaus is held numerous times during...

Defeating Fear "There is no fear in love; perfect love drives out all fear. So then, love has not been made perfect in anyone who is afraid, because fear has to do with punishment."  (1 John 4:18 GNT) I have two dear friends that have no worries.  They are not financially rich, but they are rich in the Spirit.  I admire their love of God.  They have absolute confidence in Him and His provision for them and their families.  I love God but, I also have worries.  I have a son with autism that will likely never speak complete sentences or have a...

A Christian Perspective on Marriage "That is why a man leaves his father and mother and is united to his wife, and they become one flesh"  (Genesis 2:24 NIV). At almost every marriage ceremony that I have attended, the words "What God has put together, let no man separate," are often spoken by the pastor or person conducting the ceremony. Rings are also exchanged by the happy couple. The rings are essentially a circle which has no beginning or end and is therefore a symbol of infinity. It is endless and eternal -- just the way love should be. The wedding ring is worn on...