Looking for Something Good to Taste?
"Taste and see that the Lord is good; blessed is the one who takes refuge in Him" (Psalm 34:8 NIV).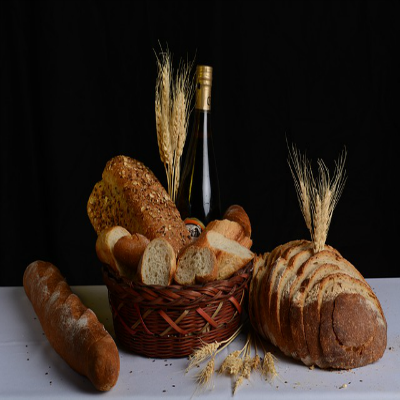 The only thing I like better than eating food is eating food that is tasty.  We all love a tasty meal and many of us have our own unique spice combination to make a dish more appealing.  I think about all the elaborate cooking shows that are popular on television.  I too enjoy watching many of them.  Then, I consider the most significant meal that we consume is the Lord's supper, Holy communion, Holy Eucharist, or the Blessed Sacrament. 
The consecrated body of Christ becomes for us the "bread of life" (John 6:22-59), and the blood of Christ becomes the "cup of our salvation" (Psalm 116:13) through the power of the Holy Spirit.  Jesus 
instructed His followers to use bread and wine to remember the sacrifice He was going to make when He died for our sins on the cross (1 Corinthians 11:23-26).  This simple meal is an invitation to "Taste and see that the Lord is good; blessed is the one who takes refuge in Him (Psalm 34:8).  The invitation is to experience His living presence, and it comes with a promise which is always true.   The more you experience Him, the more aware you will become of His goodness. 
Knowledge of God is essential to our faith.
In times of adversity, it is natural to doubt the goodness of God.  The ways of God are always good but are often mysterious, even to those who know Him intimately.  The Bible teaches us, "As the heavens are higher than the earth, so are my ways higher than your ways and my thoughts than your thoughts" (Isaiah 55:9).  I have wasted many hours trying to understand His ways.  This is particularly true in times of adversity and worry.   God uses adversity to draw us nearer and the enemy seizes the opportunity to damage our emotional health.
Imagine how much more complete our lives would be if we turned our worry into worship.  Instead of trying to understand God, we should spend time enjoying His presence and experiencing His goodness.  I have tasted and know that the Lord is good.  My refuge, rock, and redeemer is my Lord.  Come and taste and you will see that the Lord is good.
Prayer:  Dear God:  Thank you for Jesus.  We remember Him each time we consume His body and blood.  We vow to never forget His sacrifice for our sins.  Amen.
Todd Shupe is a Men's Ministry Specialist through the General Commission of United Methodist Men and is in training to be a Certified Lay Minister through the Louisiana Conference of the United Methodist Church. He currently serves as the President of the Baton Rouge District of United Methodist Men and is a Board Member for Gulf South Men and serves on the Action Team for The Kingdom Group. He is a volunteer for the Walk to Emmaus, Grace Camp, and Iron Sharpens Iron. Todd resides in Baton Rouge, Louisiana.
We welcome your comments below.
Thank you for visiting. We trust that you have enjoyed reading our articles.
Read more below or search for more topics...
Purpose And Proper Daily Use Of Prayer "Freedom is what we have—Christ has set us free! Stand, then, as free people, and do not allow yourselves to become slaves again" (Galatians 5:1 GNT). We all have regrets.  A little is natural but when regret paralyzes your ability to enjoy the present, it is a problem.  As Christians we are not called to be timid and regretful.   Our calling, as detailed in Joshua 1, is to be "strong and courageous."As Joshua 1 begins, the Israelites are camped along the east bank of the Jordan River.  Forty years earlier the Israelites had an opportunity...

Judge Others or Pray? "No one, sir," she said. "Then neither do I condemn you," Jesus declared. "Go now and leave your life of sin"  (John 8:11).It is so very tempting to judge others as we can go about our day.  We often do not say anything negative but in our minds, we condemn others.  Some of us will pass judgment when we see someone smoking cigarettes.  Others will pass judgment when they see a person with multiple tattoos and piercings.  We can even quote Scripture to support our case.  Don't they know that their bodies are a "holy temple"?  (1...

Promise Keepers Is Improving Lives "If you make a vow to the Lord your God, do not be slow to pay it, for the Lord your God will certainly demand it of you and you will be guilty of sin.  But if you refrain from making a vow, you will not be guilty.  Whatever your lips utter you must be sure to do, because you made your vow freely to the Lord your God with your own mouth" (Deuteronomy 23:21-23 NIV). In a world where regular church attendance seems to have taken a back seat to simply not being inconvenienced, it's important...