Making a Difference in the Lives of Men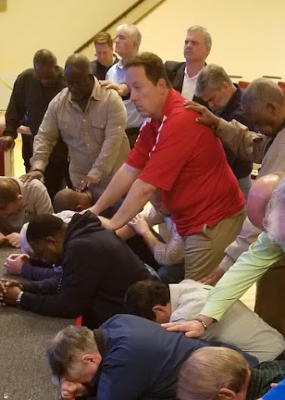 I encourage you to prayerfully consider joining me in donating to Rev. Mark Lubbock's ministry – Gulf South Men. Please visit Gulf South Men's website and GSMen.org to get a glimpse of the scope and impact of this ministry or give Mark a call at (225)252-3331. Mark's ministry helps men become Disciples that are servant leaders as modeled by Jesus. His work cuts across boundaries of denomination, race, age, etc. His goal is to raise up Godly men that bring Christ into their homes and families and then out into the world. There have been dramatic impacts on men, but the ultimate beneficiaries are wives and families.
I have been blessed to have worked alongside Mark in ministry for several years and have seen the Holy Spirit work through him. If you have any questions or suggestions about the ministry, financial plans, etc. please give Mark a call (225)252-3331. I know he will be happy to chat with you.
To donate please go to — Donate.. Most importantly, I ask that you pray for God's provision and protection for Mark and his wife, Vickie, and his ministry. Please ask God what amount He would have you contribute and whatever amount He puts on your heart is certainly the right amount, even if its zero. God bless!
Todd Shupe is a Men's Ministry Specialist through the General Commission of United Methodist Men and is in training to be a Certified Lay Minister through the Louisiana Conference of the United Methodist Church. He currently serves as the President of the Baton Rouge District of United Methodist Men and is a Board Member for Gulf South Men and serves on the Action Team for The Kingdom Group. He is a volunteer for the Walk to Emmaus, Grace Camp, and Iron Sharpens Iron. Todd resides in Baton Rouge, Louisiana.
We welcome your comments below.
Thank you for visiting. We trust that you have enjoyed reading our articles.
Read more below or search for more topics...
Real Faith Has Works "What good is it, my brothers and sisters, if someone claims to have faith but has no deeds? Can such faith save them? (James 2:14 NIV). Most surveys show that the vast majority of Americans self-identify as Christians and have faith in God.  This is great, but James 2:14 puts this in context.  "What good is it, my brothers and sisters, if someone claims to have faith but has no deeds? Can such faith save them?"In my Bible, the heading for Hebrews 11 reads "Faith in Action" and the first verse of chapter 11 teaches, "Now faith is confidence in...

Love Must Be Shown "Now someone may argue, 'Some people have faith; others have good deeds.' But I say, 'How can you show me your faith if you don't have good deeds? I will show you my faith by my good deeds'" (James 2:18 NLT).Some people think faith is a strong belief in something or someone.  Some may argue that it is a concept or a part of theology.  Faith is so much more than any of that.  The second chapter of James teaches us that real faith transforms lives.   2 Corinthians 5:7 is essential in this regard because it tells us, "For...

The Power of Prayer "The priests and the Levites stood to bless the people, and God heard them, for their prayer reached heaven, His holy dwelling place." (2 Chronicles 30:27 NIV) It is important to understand that the power of prayer does not come from us.  Prayer is not special words we say or the special way we say them or even how often we say them.  The length of our prayer is also not important.  Powerful prayer is not made by standing on the street corner with dirt on your face or any other means to show others your piety.  The...