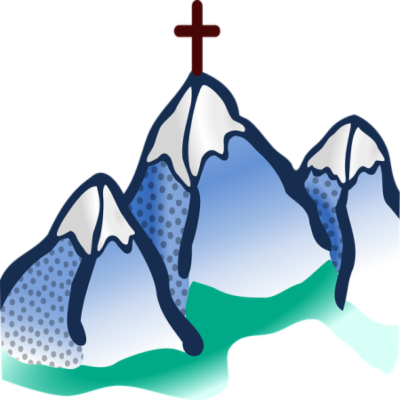 Trusting In The Valley and the Mountaintop
"Yea, though I walk through the valley of the shadow of death, I will fear no evil: for thou art with me; thy rod and thy staff they comfort me" (Psalm 23:4 KJV).
Jesus warned us that we'd have problems in life. No one is immune from pain or insulated from suffering, and no one gets to skate through life problem-free. You may have heard the old saying "nobody is an atheist in a fox hole."  Many of us turn to God during the difficult times in our lives but then go back to living in the flesh during periods of good times.  This is a recurring theme for the Jewish people in the Old Testament and is epitomized by the story of the golden calf in Exodus 32.
The apostle Peter assures us that problems are normal, saying, "Don't be bewildered or surprised when you go through the fiery trials ahead, for this is no strange, unusual thing that is going to happen to you" (1 Peter 4:12). God uses these problems to draw you closer to Him. The Bible says, "The Lord is close to the brokenhearted; He rescues those who are crushed in spirit" (Psalm 34:18).   It is during suffering that we learn to pray our most authentic, heart-felt, honest-to-God prayers.   We gain character and hope through our suffering and a closer walk with God.  God could have easily kept Joseph out of jail, kept Daniel out of the lion's den, kept Jeremiah from being tossed into a slimy pit, kept Paul from being jailed, beaten, and shipwrecked three times, and kept the three Hebrew young men from being thrown into the blazing furnace, but he didn't. He let those problems happen, and each of those people was drawn closer to God as a result.
We trust God with our problems but do we always trust him with everything, including our blessings.  Perhaps we should stop and ask ourselves – where do our blessings come from?   James 1:17 tells us "Every good and perfect gift is from above, coming down from the Father of the heavenly lights, who does not change like shifting shadows."
According to the Genesis 22, God commands Abraham to offer his son Isaac as a sacrifice. After Isaac is bound to an altar, a messenger from God stops Abraham at the last minute, saying "now I know you fear God."  God is seeking our trust and faith in good times and bad.  In other words, He wants us to trust Him with our blessings as well as our problems.
Hebrews 11 details the accomplishments of people of great faith: Abraham, Isaac, Jacob, Moses, and others.  I find it noteworthy that Hebrews 11:31 details the faith of a prostitute.  "By faith the prostitute Rahab, because she welcomed the spies, was not killed with those who were disobedient."
I like the King James Version of Malachi 2:2.  This is important scripture that deals with the consequences of not trusting God.  "If ye will not hear, and if ye will not lay it to heart, to give glory unto my name, saith the LORD of hosts, I will even send a curse upon you, and I will curse your blessings: yea, I have cursed them already, because ye do not lay it to heart."  Now, contrast this to the blessed life that awaits us if we do trust Him and trust Him completely.
You'll never know that God is all you need until God is all you've got.
Prayer:  Dear God, Help us to realize that You are always with us, always love us, and will never forsake us.  Amen.
Meet the Author
Todd Shupe is a Men's Ministry Specialist through the General Commission of United Methodist Men and is in training to be a Certified Lay Minister through the Louisiana Conference of the United Methodist Church. He currently serves as the President of the Baton Rouge District of United Methodist Men and is a Board Member for Gulf South Men and serves on the Action Team for The Kingdom Group. He is a volunteer for the Walk to Emmaus, Grace Camp, and Iron Sharpens Iron. Todd resides in Baton Rouge, Louisiana.
We welcome your comments below.
Thank you for visiting. We trust that you have enjoyed reading our articles.
Liked this post?
Read more below or search for more topics…


Getting To The Heart Of The Issue
Over the years, I have spoken with many Christians and enjoyed having the opportunity to hear their testimony. Some are "intellectual Christians," so to speak, and believe that science has proved the existence of Christ and therefore they also believe. Many have provided me with compelling arguments for their Christian faith.   I also believe in Jesus and in science.
However, at the heart of the issue is our heart.  Do you believe in Him in your heart and seek him with your whole heart? Jesus taught us in Matthew 22:37, "Love the Lord your God…
Read More



Civil Discourse
"A new commandment I give to you, that you love one another: just as I have loved you, you also are to love one another. By this all people will know that you are my disciples, if you have love for one another"  (John 13:34-35).
Have you noticed a breakdown in our ability as a society to engage in civil discourse?  I have.  It seems we prefer to argue with each other rather than engage in a constructive exchange of ideas.  The goal for many is to "win" the argument with a snarky comment.  This is particularly true on social…
Read More