Is Your Peace Temporary Or Permanent?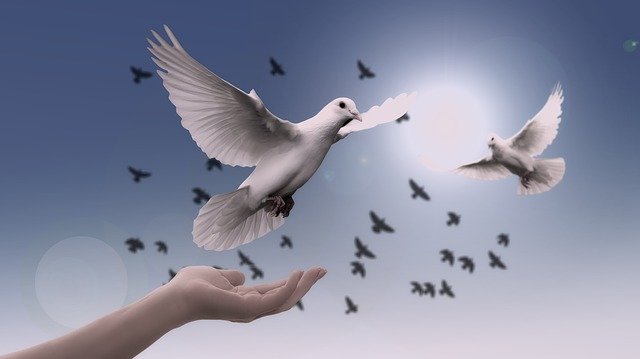 "Peace I leave with you; my peace I give you. I do not give to you as the world gives. Do not let your hearts be troubled and do not be afraid" (John 14:27 NIV).
I think we all want peace.  Even the sound of the word is pleasing to the ear.  We differ in how we go about trying to achieve peace.   For some, peace is a quiet night with no children and no phone calls.  Others may find peace by drinking coffee in the morning or wine in the evening.  You might find your peace by owning a home security system and a gun!
The kind of peace the world gives is temporary. It has been reported that in the last 300 years, about 260 peace treaties have been signed—and almost none of them were kept.  As Christians, we not only receive the forgives of our sins and life everlasting, but we also receive His peace.  "Peace I leave with you; my peace I give you. I do not give to you as the world gives. Do not let your hearts be troubled and do not be afraid" (John 14:27, emphasis added).  Jesus specifies the type of peace that He is giving.  This is not your typical peace, not conditional peace, and not earthly peace.  This is His peace. 
The peace that comes from the world is totally circumstantial.  If your peace is contingent on your income, home security system, or coffee, then what happens to your peace when these things are gone?  The peace that comes from a life lived in Jesus and for Jesus is different.  His peace is not contingent on your actions.  There is no quid pro quo or contract.  Jesus gives you a different kind of peace.  The Bible calls it "peace . . . which surpasses all understanding" (Philippians 4:7).
The peace of Jesus is certainly hard to understand from a secular perspective.  His grace allows us to be at peace when there's no obvious or visible reason why we should be at peace.  I have a good friend that lost his house and contents due to a flood a few years ago.   His life was in chaos, but for some unexplainable reason, He was at peace.  His confidence and peace at this terrible time was a strong witness to his faith.
The peace that Jesus offers us today is the same peace that He offered the woman at the well in John 4.  Jesus told the woman, "Everyone who drinks this water will be thirsty again, but whoever drinks the water I give them will never thirst. Indeed, the water I give them will become in them a spring of water welling up to eternal life" (John 4:13-14). 
Any areas of our lives that are full of worry, anxiety, or fear represent areas that we have not yielded to Jesus.  This could include our finances, marriage, job, etc.  Whatever it is, we have to let it go in order for God to take control.  You may have heard the expression "let go and let God."  I think this is great, but I would make one slight change- "let go, let God, and rest in His peace."
The right next step is to pray the prayer, or one of your own, below and then follow up with your pastor.
Prayer:  Dear God, Thank you for your love and grace.  Send your Holy Spirit to search me and reveal any areas of my life that I have not surrounded to you.  Grant me the courage and wisdom to yield everything to you so I can truly rest in your peace.  Amen.
Todd Shupe is a Men's Ministry Specialist through the General Commission of United Methodist Men and is in training to be a Certified Lay Minister through the Louisiana Conference of the United Methodist Church. He currently serves as the President of the Baton Rouge District of United Methodist Men and is a Board Member for Gulf South Men and serves on the Action Team for The Kingdom Group. He is a volunteer for the Walk to Emmaus, Grace Camp, and Iron Sharpens Iron. Todd resides in Baton Rouge, Louisiana.
We welcome your comments below.
Thank you for visiting. We trust that you have enjoyed reading our articles.
Read more below or search for more topics...
The New Year "See, I am doing a new thing! Now it springs up; do you not perceive it? I am making a way in the wilderness and streams in the wasteland" (Isaiah 43:19).As the new year approaches so does a surge in membership applications to local fitness centers.   Many of us make a new year's resolution to lose weight, and this is a great resolution.  Our bodies are a temple of the Holy Spirit, and we are to honor God with our bodies (1 Cor. 6:19-20).   At this time of the year, I like to reflect on Isaiah 43:19. "See,...

In Search of Wisdom "The fear of the Lord is the beginning of wisdom, and knowledge of the Holy One is understanding" (Proverbs 9:10 NIV). If you are reading this, you are older today than you were yesterday.  However, just because we are older does not necessarily make us wiser.  Not everyone grows wise with age, but everyone does grow old with age.  It is important to note that we should all show respect to our elders, regardless of their level of wisdom.However, I think society tends to confuse wisdom with age.  However, a person can be old and not necessarily be very wise.  Education is fine...

Pause At Easter And Behold Our Savior Easter is one of the principal holidays, or feasts, of Christianity. It marks the Resurrection of Jesus three days after His death by crucifixion.  It is a time of redemption, but we really have a poor understanding of the term.  Redemption is when somebody pays for your sins so that you can be forgiven and walk away justified. They do your time. They pay your penalty. All the things you've done wrong are paid for by somebody else.That's what Jesus Christ did for you and me.  He lived a perfect life so that his sacrifice...