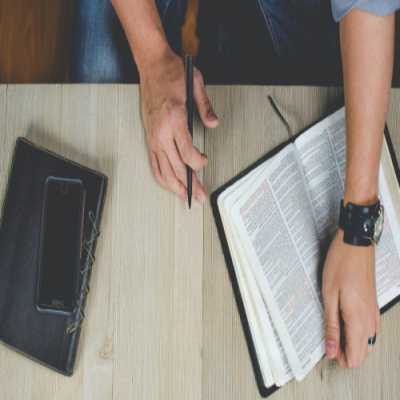 Read Scripture And Then Use It
"Everyone who hears these words of mine and puts them into practice is like a wise man who built his house on the rock" (Matthew 7:24 NIV).
I enjoy reading the Bible, and I if you are reading this you probably do as well.  I also enjoy group Bible studies, Sunday School, small groups and any other means of studying and learning Scripture.  I study Scripture because I want to learn more about God.  I know "All Scripture is God-breathed and is useful for teaching, rebuking, correcting and training in righteousness so that the servant of God may be thoroughly equipped for every good work" (2 Timothy 3:16-17).   I want to learn, and the more I learn, the more I realize how much I do not know.  The Word is essential to our training (and continual retraining) in righteousness. 
The Word is more powerful that we can even begin to realize.  The Apostle Paul conveyed this in Hebrews 4:12, "For the word of God is alive and active. Sharper than any double-edged sword, it penetrates even to dividing soul and spirit, joints and marrow; it judges the thoughts and attitudes of the heart."
How many times do we read and study Scripture and then stop?  Yes, the Bible is to be read and studied, but it is also to be lived and shared.  Our salvation is not in our knowledge of Scripture, but rather our salvation is in the Blood of Christ.
In the time of Jesus, there were teachers of the Law that had a deep and profound knowledge of Scripture.  Jesus warned us about their hypocrisy in Matthew 23:2-3.  "The teachers of the law and the Pharisees sit in Moses' seat.  So you must be careful to do everything they tell you. But do not do what they do, for they do not practice what they preach."  One of the many names used to refer to Jesus was "teacher" (John 13:13).  As a teacher, Jesus wants us to use His teaching and "go and do likewise."  The evangelist D.L. Moody once said, "The Bible was not given to increase our knowledge, but to change our lives."
In the book of Matthew, Jesus tells the story of two builders – a wise one and a foolish one.
The foolish man builds his house on sand. When a storm comes, the house falls with a great crash. Jesus says people who hear His teachings but don't put them into practice are like that foolish builder.  The wise builder, though, builds his house on the rock. When rain and winds come, his house stands firm. Jesus says: "Everyone who hears these words of mine and puts them into practice is like a wise man who built his house on the rock" (Matthew 7:24).
The Book of James speaks at length about putting into action what the Bible teaches. The first chapter of the book of James includes three characteristics that we will have if we are putting God's Word into practice.  We will have:
A controlled mouth: "Those who consider themselves religious and yet do not keep a tight rein on their tongues deceive themselves, and their religion is worthless" (James 1:26).
A caring heart:  "Religion that God our Father accepts as pure and faultless is this: to look after orphans and widows in their distress" (James 1:27).
The disciples learned the Word from the Word (Jesus).  Jesus knew that knowing and doing are different so He told, "Now that you know these things, you will be blessed if you do them."  Biblical knowledge is a blessing, but a greater blessing can be found when we put its teachings into practice.
I love the familiar Scripture in Psalm 118:24. "This is the day the Lord has made; We will rejoice and be glad in it."  Think about the words "rejoice and glad."  I think we can show these attributes by showing Christ.  We show Christ when we put our faith into Christ-like words, thoughts, and action.  Read your Bible and be a doer of the Word.
Prayer:  Dear God:  Thank you for revealing yourself to us through your Word.  Help us to not only study your Word but to put it into action in our daily lives.  Amen. 
Todd Shupe is a Men's Ministry Specialist through the General Commission of United Methodist Men and is in training to be a Certified Lay Minister through the Louisiana Conference of the United Methodist Church. He currently serves as the President of the Baton Rouge District of United Methodist Men and is a Board Member for Gulf South Men and serves on the Action Team for The Kingdom Group. He is a volunteer for the Walk to Emmaus, Grace Camp, and Iron Sharpens Iron. Todd resides in Baton Rouge, Louisiana.
We welcome your comments below.
Thank you for visiting. We trust that you have enjoyed reading our articles.
Read more below or search for more topics...
Meal Time is Ministry Time "When He was at the table with them, He took bread, gave thanks, broke it and began to give it to them" (Luke 24:30 NIV). Many people have the false notion that ministry only occurs inside the walls of the local church.  The truth is we go to worship on Sunday to be fed the Word so that we can be the hands and feet of Christ – to feed others.  However, it should be noted that we need to feed ourselves throughout the week by reading Scripture, prayer and meditation, and small groups. We are all ministers.  We...

Defeating Evil "Jesus said to him, "Away from me, Satan! For it is written: 'Worship the Lord your God and serve Him only.'   Then the devil left Him, and angels came and attended Him  (Matthew 4:10-11 NIV). I find it troubling that many Christians do not believe in the existence of satan.  I always use a lower case "s" when referring to the enemy because I want to be as disrespectful as possible.  If you doubt the reality of evil as an active force in this world, simply remember that Jesus dealt with the enemy first hand on multiple occasions. A single-dimensional outlook,...

The Stranger "Do not forget to show hospitality to strangers, for by so doing some people have shown hospitality to angels without knowing it"  (Hebrews 13:2 NIV).A friend recently told me an amazing story of kindness that begin with the simple words "excuse me."  She was walking to her car in a parking lot when a voice from behind called out to her, "excuse me."  She froze for a second and did not immediately respond.  She thought that this is likely a con man or a beggar wanting a hand out.  Questions raced through her mind.  Why doesn't he get a...