"He will sit as a refiner and purifier of silver; He will purify the Levites and refine them like gold and silver" (Malachi 3:3 NIV).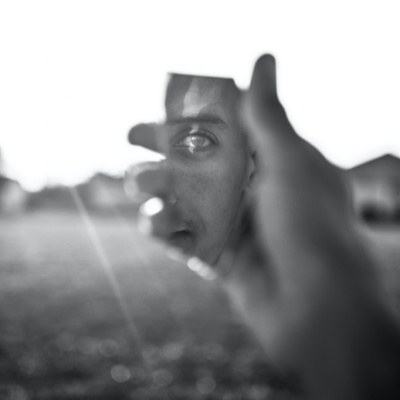 I think most people probably use a mirror at least once a day, maybe even multiple times.  We look at ourselves to see our reflection.  We want to know what image we are reflecting out to others.  Then, we take action to improve our appearance.
Scripture tells us that God's Word is like a mirror:  "Anyone who listens to the Word but does not do what it says is like someone who looks at his face in a mirror and, after looking at himself, goes away and immediately forgets what he looks like" (James 1:23-24).  A mirror reflects our outside physical appearance, and God's Word reflects our inner spiritual appearance.  Which one of these do you think is more important to you, to society, and to God?
Have you ever seen yourself as one of the characters in the Bible?  For example, if you read the parable of the lost son in Luke 15, you will likely see yourself as behaving as one of the characters at some point in your life.  Sometimes we focus on the sins of others rather than our own sins as happened to the woman caught in adultery in John 8.  I saw a great meme on Facebook recently that read – the only one qualified to throw a stone did not.
Hebrews 4:12 says that God's Word discerns our heart's thoughts and desires.  As we search Scripture, it searches us as well.  I suspect that some do not read the Bible because they are afraid to look into the mirror of God's Word and see their spiritual reflection.  Our spiritual reflection to the world is evidenced by our ability, or inability, to show the fruits of the Spirit: love, joy, peace, forbearance, kindness, goodness, faithfulness, gentleness, and self-control (Galatians 5 22-23). 
What is our spiritual reflection of our self?  Our sins can soil our image to our own eyes.  Our spiritual reflection to ourselves lies in our ability to claim our new identity in Christ.  The Fruits of The Spirit are not only to be shown to others but also to ourselves.  How can we give these to others when we have failed to give them to ourselves? 
God is known by many names and descriptions in Scripture.  One of my favorite images is that of a silversmith.  In Malachi 3:3 we learn, "He will sit as a refiner and purifier of silver; He will purify the Levites and refine them like gold and silver"
When silver is mined from the earth, it does not look like the silver we find in a jewelry store. In fact, it is not always recognizable due to the impurities that mar its appearance. An experienced silver miner knows that the ugliest lump of silver is of great value, and the potential for beauty is great.  God does not see us full of impurity but full of worth.
I was in a Bible study years ago when I first read this verse.  An older gentleman asked me how does God know when the silver is refined and finished?  He answered his own question and said when He can see His own reflection in who is being refined.  Amen?
Prayer:  Dear God:  Thank you for your love and patience as the impurities are removed from our spirits.  We know that through your grace and the blood of Jesus you can look at us and see Your reflection as we are presented perfect, blameless, and without fault.
Todd Shupe is a Men's Ministry Specialist through the General Commission of United Methodist Men and is in training to be a Certified Lay Minister through the Louisiana Conference of the United Methodist Church. He currently serves as the President of the Baton Rouge District of United Methodist Men and is a Board Member for Gulf South Men and serves on the Action Team for The Kingdom Group. He is a volunteer for the Walk to Emmaus, Grace Camp, and Iron Sharpens Iron. Todd resides in Baton Rouge, Louisiana.
We welcome your comments below.
Thank you for visiting. We trust that you have enjoyed reading our articles.
Read more below or search for more topics...
The Lobbyist "There is a way that appears to be right, but in the end it leads to death" (Proverbs 14:12 NIV). There are numerous non-government organizations and companies that have a substantial lobbying presence in Washington, D.C.  An optimist would indicate that the lobbyists are there to educate lawmakers on the nuances of current or pending legislation that affects the employer of the lobbyist(s).  A pessimist would state that the lobbyists are there to unfairly influence the legislative process on current or pending legislation.  In any event, the job of the lobbyist is to try to convince those in power to...

Live Life Now! "Not that I was ever in need, for I have learned how to be content with whatever I have. I know how to live on almost nothing or with everything. I have learned the secret of living in every situation, whether it is with a full stomach or empty, with plenty or little" (Philippians 4:11-12 NLT). I have read this Holy Scripture many times and still struggle to understand it.  I am confused how Paul can essentially have the same joy with plenty or with little.   I have traveled to several developing countries and have witnessed wide spread poverty...

Put Down the Phone and Truly Engage with People "Do not be interested only in your own life but be interested in the lives of others" (Philippians 2:4 NCV). Everybody is busy.  Anytime I ask somebody how they are doing the response is always "busy" or "really busy."  Americans are over worked and over stressed.   Work has become the number one focus for many, family second, and God third (if time permits).  This is not Biblical nor healthy.  Our priorities need be examined.I remember when smart phones were introduced into the market several years ago.  I thought they would be great to help...