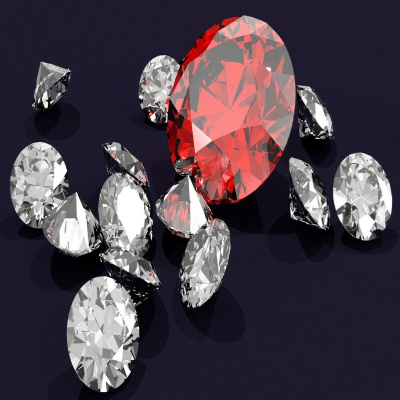 Look Past The Sin To See The Person – Examples From Godly Women
"A wife of noble character who can find? She is worth far more than rubies" (Proverbs 31:10 NIV).
Women have always been vitally important to Christianity.  Their love and compassion have been recorded since the beginning of time.  When thinking about the beginning, we often think of Eve and her sin of eating from the tree of knowledge of good and evil in the Garden of Eden.  Due to God's grace she still had children and is forever known as the mother of all creation.  But we tend to focus on and remember her sin.  However, our focus should be on her redemption.
Sarah was the wife of Abraham, the great Patriarch.  She could throw fits and sometimes behaved badly.  She could be manipulative and even mean.  Sarah is also listed in the Faith Hall of Fame. "By faith Sarah herself also received strength to conceive seed, and she bore a child when she was past the age, because she judged Him faithful who had promised" (Hebrews 11:11).
Rahab is first introduced in the Bible as an unsavory character – "a harlot named Rahab" (Joshua 2:1).  She was immoral and living in a pagan culture.  She knew of the greatness of God and provided assistance to the spies sent by Joshua to investigate her hometown of Jericho.  However, she is specifically singled out by name for her faith. "By faith the prostitute Rahab, because she welcomed the spies, was not killed with those who were disobedient" (Hebrews 11:31). Rahab even appears in the genealogy of Christ in Matthew 1. 
So, how do we apply this to our life today?  I think the right next step is for us to reflect on how we view others.  For example, I have a friend that spent time in prison for killing a police officer.  He admits that he did it.  I did not know him until he had been released for many years and he was active in ministry.  Somebody else told me, "that guy killed a cop."  However, by God's grace it did not affect my perception of him.  I had already built my perception based on what I had seen.  I had seen the sincerity of his faith, the fruits of his witness, and the depth of his faith.  I was not really interested in the details of his prior life, regardless if they were true or not.  Don't we all love to sing Amazing Grace?  I was lost but now found.
As Christians we are not immune to sin in our current life.  As I become aware of sin in the lives of others, I can offer my judgment or my prayers.  Judgment is the job of God.  Conviction is the job of the Holy Spirit.  My job, and yours, is to love and pray.  I try to use my words and thoughts to build up the Body of Christ.  That does not mean I agree with everything, but it does mean that we should let God be God and do His job.
As men, we should remember what Adam said regarding Eve in Genesis 2:23, "This is now bone of my bones and flesh of my flesh; she shall be called 'woman,' for she was taken out of man."  As men we are called to honor the women in our lives.  One way we do so is to forgive them of their sins as we too seek to be forgiven and view them as Christ views us all.
Prayer:  Dear God, Thank you for the Godly women that you have placed in our lives.  May we always honor them as we honor you.  Amen.
Meet the Author
Todd Shupe is a Men's Ministry Specialist through the General Commission of United Methodist Men and is in training to be a Certified Lay Minister through the Louisiana Conference of the United Methodist Church. He currently serves as the President of the Baton Rouge District of United Methodist Men and is a Board Member for Gulf South Men and serves on the Action Team for The Kingdom Group. He is a volunteer for the Walk to Emmaus, Grace Camp, and Iron Sharpens Iron. Todd resides in Baton Rouge, Louisiana.
We welcome your comments below.
Thank you for visiting. We trust that you have enjoyed reading our articles.
Liked this post?
Read more below or search for more topics…


Evil Is Happening in Our Churches!
"Love must be sincere. Hate what is evil; cling to what is good  (Romans 12:9 NIV).
I am angry about the continued shootings at our churches. Our churches are God's house on earth.  Psalm 46:1 teaches us, "God is our refuge and strength, an ever-present help in trouble" (Psalm 46:1).   I think we can substitute "church" for "God" in the scripture.  As Christians we seek out His refuge and strength, particularly on Sunday mornings as we gather with the Body of Christ.   This is a special, holy, sacred time.  It should also be a safe time.
I…
Read More



Put On The 'Full Armor Of God' For Hope
"Put on the full armor of God, so that you can take your stand against the devil's schemes"  (Ephesians 6:11 NIV).
We all experience times in our lives in which we feel hopeless. For some, these periods linger into years and years. Given these circumstances, I would like to equip readers with some thoughts on how to maintain hope when all hope appears to be gone. In this article, you'll find some thoughts on the importance of hope in your life. For your consideration, Job was a strong disciple of God, but had…
Read More



A Prayerful Life
16"Rejoice always, 17 pray continually, 18 give thanks in all circumstances; for this is God's will for you in Christ Jesus."
1 Thessalonians 5:16-18 (NIV)
The Bible has much Scripture that encourages us to seek God through prayer.  The Gospels and the Epistles are particularly filled with Holy Scripture that encourages us to seek God's face through prayer.   Our direct line of communication to God is prayer.  It is a deeply personal process by which we bring Him our prayers of thanksgiving and supplication.  We go into our inner room and pray to our loving Father with full confidence that He hears us and…
Read More