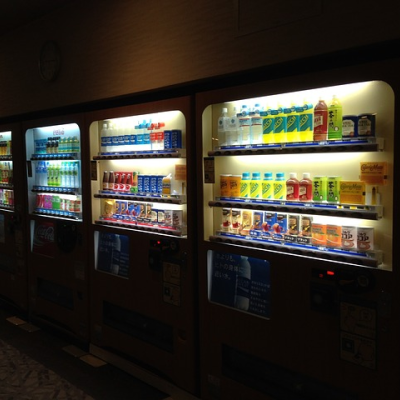 What Does God Want From You?
"For I desire mercy, not sacrifice, and acknowledgment of God rather than burnt offerings" (Hosea 6:6 NIV).
Through our prayers and petitions we make it very clear what we want from God, but have you ever stopped to think what does God want from me?  I had a friend once tell me that for years he viewed God as a "mystical vending machine."  Many Christians believe that if we give our tithes and offerings to our local church, then we have "done our part."  Moreover, we sometimes confuse God with Santa Claus and think that if we are outwardly religious such as attending church every Sunday and volunteering for church activities then we will get an extra helping of God's favor.
So, once we do our part, it is time for God to do his part, right?  This is the basis behind the mystical vending machine theory – I put money in and then I  get to select what I want to come out.  Tithing is a good thing and a ten percent tithe is not only encouraged in Scripture but comes with a great promise of provision.  Malachi 3:10 reads, "Bring the whole tithe into the storehouse, that there may be food in my house. Test me in this," says the LORD Almighty, "and see if I will not throw open the floodgates of heaven and pour out so much blessing that there will not be room enough to store it."  God is pleased when we return to Him our first fruits.  The key to giving is to give with a pure heart.  Give with a desire that others will be blessed.  Give to God because you trust in Him.  Jesus rebuked the religious leaders of His day by, saying, "But woe to you Pharisees! For you tithe mint and rue and every herb, and neglect justice and the love of God. These you ought to have done, without neglecting the others" (Luke 11:42).
Please note that I used the term "outwardly religious" in the first paragraph.  Now, please consider the words of Matthew 23:26-28.  "26 You blind proud religious law-keepers! Clean the inside of the cup and plate, then the outside will be clean also.27 "It is bad for you, teachers of the Law and proud religious law-keepers, you who pretend to be someone you are not! You are like graves that have been made white and look beautiful on the outside. But inside you are full of the bones of dead men and of every sinful thing. 28 As men look at you, you seem to be good and right but inside you are full of sin. You pretend to be someone you are not."
God doesn't want a phony.  He does not need our offerings but is pleased when our offerings are given as a sincere manifestation of our faith.  What He does desire is a relationship.  In Hosea 6:6, God says, "I don't want your sacrifices—I want your love; I don't want your offerings—I want you to know Me" (Hosea 6:6). That's the first purpose of life. The most important thing you can know is that God created you so that He can love you. And the most important thing you can do in life is to know and love Him.
Prayer:  Dear God prune us from everything that separates us from you.  Send forth your Holy Spirit to draw us closer to You.  Grant us a peace that transcends all understanding as we grow closer to You.  Give us a pure heart that seeks Your face and sincerely desires to honor You in all that we think, say, and do.  We love, seek you, and need you this day and every day.  Amen.
Todd Shupe is a Men's Ministry Specialist through the General Commission of United Methodist Men and is in training to be a Certified Lay Minister through the Louisiana Conference of the United Methodist Church. He currently serves as the President of the Baton Rouge District of United Methodist Men and is a Board Member for Gulf South Men and serves on the Action Team for The Kingdom Group. He is a volunteer for the Walk to Emmaus, Grace Camp, and Iron Sharpens Iron. Todd resides in Baton Rouge, Louisiana.
We welcome your comments below.
Thank you for visiting. We trust that you have enjoyed reading our articles.
Read more below or search for more topics...
Partner With God While Waiting "God is our refuge and strength, a very present help in trouble" (Psalm 46:1 KJV). Waiting is a daily occurrence: We wait in line at the grocery store, post office or on the phone. Sometimes, we are waiting long-term for news regarding a loved one who has suddenly become ill or was in an accident. Waiting is also a part of joyous occasions such as the birth of a child or marriage. In any case, worrying almost always leads to anxiety. I have five favorite scriptures that I go to while waiting. 1) In Isaiah 40:31, it says:...

Faith is the Cure for Stress "Since He did not spare even his own Son for us but gave him up for us all, won't He also surely give us everything else?" (Romans 8:32 TLB). The major cause of stress in your life is worry. Worry is a sign that we do not have faith in God to meet our needs.Worry can come from three sources:1) Ourselves- We worry about our ability to survive tomorrow and neglect the blessing of today.  Matthew 6:26-27 teaches us, "Look at the birds of the air; they do not sow or reap or store away in...

Where Are You On The Road From Capernaum to Cana? "Wait for the LORD; be strong, and let your heart take courage; wait for the LORD" (Psalm 27:14 ESV).It has often been said that two things are certain in this life – death and taxes.  I would add one more to the list – problems.   We all face problems in life that are too great for us alone to handle.  I do not  know your particular story but I do know that each reader is in one of three seasons in life:  (1) in a storm, (2) exiting a storm, or...