When You Walk Through The Fire, You Will Not Be Burned
"When you pass through the waters, I will be with you; and when you pass through the rivers, they will not sweep over you. When you walk through the fire, you will not be burned; the flames will not set you ablaze" (Isaiah 43:2 NIV).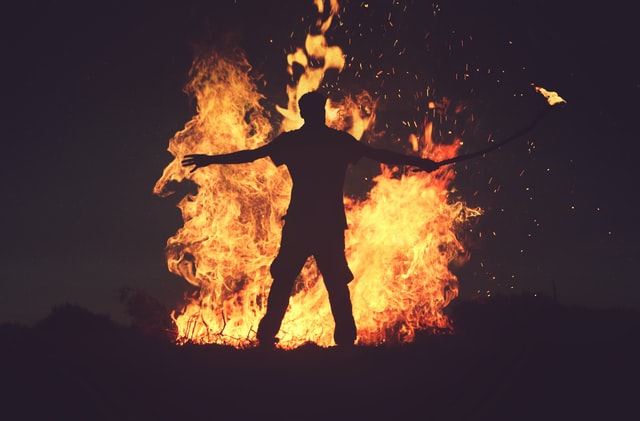 Please closely read the Scripture at the top of this blog.  Hopefully, everything is going great for you in your life right now.  However, if you are not in a period of adversity now, you will be sometime in the future.  More about that later.
As I think about Isaiah 43:2, my mind thinks of situations in which God has delivered His people from water and fire.  I can remember as a child in Sunday School listening to the story of the parting the Red Sea as Moses lead his people out of Egypt.  Exodus 15:4 states: "Pharaoh's chariots and his army he has hurled into the sea. The best of Pharaoh's officers are drowned in the Red Sea."
The reference to fire in Isaiah 43:2 may be particularly relevant to many people today.  We don't often have a 100-year rain event, but it sure does seem that we often have some sort of "fire." There is an old expression, "The heat is on" when the pressure gets high. 
Daniel 3 describes the story of three friends of Daniel that were literally subjected to heat and fire.   Daniel's friends would not bow in worship to a statue of King Nebuchadnezzar.  So, the king had them tossed into a fire and had the furnace heated seven times hotter than usual.
The LORD was with Daniel's friends, and they were not harmed.  They actually lived out the last sentence of Isaiah 43:2. "When you walk through the fire, you will not be burned; the flames will not set you ablaze" (Isaiah 43:2). 
How did this happen?  The furnace was seven times hotter than usual.  The men should have been instantly consumed by fire. The answer is in Daniel 3:24-25: "Then King Nebuchadnezzar leaped to his feet in amazement and asked his advisers, 'Weren't there three men that we tied up and threw into the fire?' They replied, 'Certainly, Your Majesty.' He said, 'Look! I see four men walking around in the fire, unbound and unharmed, and the fourth looks like a son of the gods."
Jesus was with them in their actual fire.  He was the fourth man.  Jesus is also with us in our "fires" when the "heat is on."  How do we know that Jesus also be with us in our "fires"?  We can take comfort that He will be with us because He tells us, "And surely I am with you always, to the very end of the age" (Matthew 28:20).  Now go back to the top and read Isaiah 43:2 again.  Notice that it does not say if you pass through the waters or if you walk through the fire.  It states when you walk through them.  Scripture is promising that it will happen, but when it does God is also promising that He will be there with us and we will survive. 
One more promise – the fire, water, or other problem will ultimately result in good.  God promises that in Romans 8:28. "And we know that in all things God works for the good of those who love him, who have been called according to His purpose."
Prayer:  Dear God:  Thank you for never leaving or forsaking us.  Please draw us close to You in both good times and bad.  Amen.
Todd Shupe is a Men's Ministry Specialist under the direction of the General Commission of United Methodist Men and is currently in training to become a Lay Minister under the Louisiana Conference of the United Methodist Church. He enjoys writing inspirational Christian blogs at ToddShupe.com and Todd-Shupe.com .
Thank you for visiting. We trust that you have enjoyed reading our articles.
Read more below or search for more topics...
Be Childlike not Immature "At that time Jesus said, "I praise you, Father, Lord of heaven and earth, because you have hidden these things from the wise and learned and revealed them to little children" (Matthew 11:25 NIV). One of the better-known Scriptures in the Bible is, "Let the little children come to me, and do not hinder them, for the kingdom of heaven belongs to such as these" (Matthew 19:14).  Jesus clearly had a love for children.  Jesus wants us to be like little children because most children are eager to learn.  If we are to be followers of God, we need to know God...

Love Is Everything "Love is patient and kind; it is not jealous or conceited or proud; love is not ill-mannered or selfish or irritable; love does not keep a record of wrongs" (1 Corinthians 13:4-5).I overheard a conversation between a young couple recently. The couple agreed that they deeply loved each other but the young lady said: "love is not enough." I was intrigued by her statement and gave it some thought. I certainly had no idea as to what struggles the couple was experiencing. However, I do have a decent understanding of the power of love. I pray that after...

Real Faith Has Works "What good is it, my brothers and sisters, if someone claims to have faith but has no deeds? Can such faith save them? (James 2:14 NIV). Most surveys show that the vast majority of Americans self-identify as Christians and have faith in God.  This is great, but James 2:14 puts this in context.  "What good is it, my brothers and sisters, if someone claims to have faith but has no deeds? Can such faith save them?"In my Bible, the heading for Hebrews 11 reads "Faith in Action" and the first verse of chapter 11 teaches, "Now faith is confidence in...