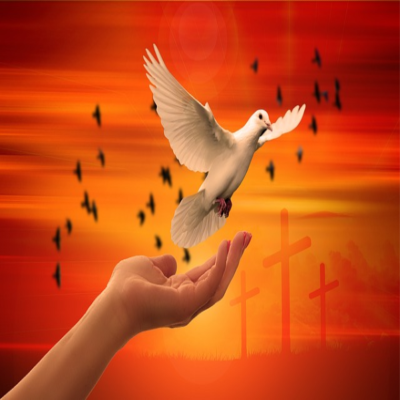 If You Want God's Mercy, Then Give Mercy to God's Children
"God blesses those who are merciful, for they will be shown mercy" (Matthew 5:7 NLT).
We all sin and want mercy.  God is quick to forgive and offer mercy when we approach Him with an earnest desire to repent from our sin.  Why is it then that as children of God we are so reluctant to offer mercy to our brothers and sisters in Christ?  Yes, forgiveness is not easy, but nobody ever promised us that a life with God would be easy.  Jesus says in Matthew 5:7, "God blesses those who are merciful, for they will be shown mercy" (NLT).  In short, what you give, you're going to get. You've got to learn to give mercy if you want God's mercy for your sins.  We all want mercy for our sins and transgressions.
But why does God want you to show mercy to others? Why is being merciful so important?  We love the mercy we get from God, but we often feel that we are entitled to withhold mercy from others.  So why should we show mercy to others?
God Has Shown Mercy To Us
Our blessings from God are not meant to be hoarded.  God wants us to pass on the mercy that you've received from Him.  Ephesians 2:4-5 reads, "God's mercy is so abundant, and his love for us is so great, that while we were spiritually dead in our disobedience, He brought us to life with Christ. It is by God's grace that you have been saved" (GNT).
God Commands Mercy
God has clearly told us what is required of us. "The Lord has told you what is good. This is what the Lord requires from you: to do what is right, to love mercy, and to live humbly with your God" (Micah 6:8 GW).
We All Have A Constant Need For Mercy
We will all make more mistakes and sins between today and the day of our death.  So, we will all need God's mercy in the future as much as in the past.  God will not give to us what we will not give to others.  James 2:13 teaches, "You must show mercy to others, or God will not show mercy to you when he judges you. But the person who shows mercy can stand without fear at the judgment" (NCV).
Showing Mercy Brings Joy
We reach in Matthew 5:7 that God blesses those who are merciful.  "Blessed are the merciful, for they will be shown mercy" (NIV).  The word "blessed" also means "happy," so the more you practice giving mercy, the happier and more blessed you're going to be.
Prayer:  Dear God:  Thank you for the mercy and forgiveness that you have given to us all.  Please help us to offer mercy to others in the same way that you offer it to us.  Amen.
Meet the Author
Todd Shupe is a Men's Ministry Specialist through the General Commission of United Methodist Men and is in training to be a Certified Lay Minister through the Louisiana Conference of the United Methodist Church. He currently serves as the President of the Baton Rouge District of United Methodist Men and is a Board Member for Gulf South Men and serves on the Action Team for The Kingdom Group. He is a volunteer for the Walk to Emmaus, Grace Camp, and Iron Sharpens Iron. Todd resides in Baton Rouge, Louisiana.
We welcome your comments below.
Thank you for visiting. We trust that you have enjoyed reading our articles.
Liked this post?
Read more below or search for more topics…


Live Life Now!
"Not that I was ever in need, for I have learned how to be content with whatever I have. I know how to live on almost nothing or with everything. I have learned the secret of living in every situation, whether it is with a full stomach or empty, with plenty or little" (Philippians 4:11-12 NLT).
I have read this Holy Scripture many times and still struggle to understand it.  I am confused how Paul can essentially have the same joy with plenty or with little.   I have traveled to several developing countries and have witnessed wide spread poverty…
Read More



The Power of Prayer
"The priests and the Levites stood to bless the people, and God heard them, for their prayer reached heaven, His holy dwelling place." (2 Chronicles 30:27 NIV)
It is important to understand that the power of prayer does not come from us.  Prayer is not special words we say or the special way we say them or even how often we say them.  The length of our prayer is also not important.  Powerful prayer is not made by standing on the street corner with dirt on your face or any other means to show others your piety.  The…
Read More



How to be a AAA-Rated Father
"Children are a gift from the Lord; they are a reward from Him.  Children born to a young man are like arrows in a warrior's hands.   How joyful is the man whose quiver is full of them!  He will not be put to shame when he confronts his accusers at the city gates )(Psalm 127:3-5 NLT).
Each year parents with good intentions will search for books to improve their parenting skills.  As parents we love our children and want them to have a good life and be happy.  We purchase material things to make them happy.  We take them on…
Read More