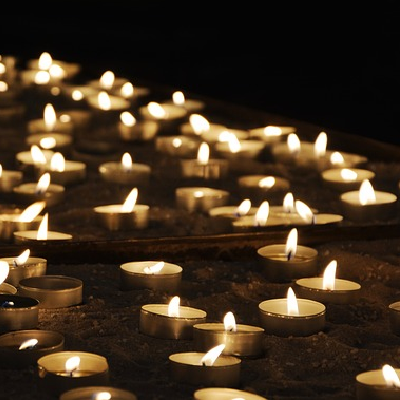 Significance of 'Sheep and Goats' Passage
"He will put the sheep on his right and the goats on his left" (Matthew 25:33 NIV).
I have talked to many Christians who believe they are destined for heaven because they have been a good person, attended church, contributed money and even helped their neighbor a few times and participated in committee meetings at church. They are essentially saying that they have "earned" their way into heaven. They may admit to believing in some sort of "higher power" and call themselves "spiritual." They may even know some Scripture regarding God's love and the miracles performed by Jesus.  My heart goes out to these people because they are deceived.
This notion that Jesus will accept everybody into heaven is false. On Earth, He calls us into a relationship with him. He offers His yoke to carry our burden. He offers the living water from Jacob's well.  He even offered His own body for the forgiveness of our sins. Jesus told us that no one comes to the Father except through Him.
The Bible instructs us in Matthew 7:13-14, "Enter through the narrow gate. For wide is the gate and broad is the road that leads to destruction, and many enter through it.  But small is the gate and narrow the road that leads to life, and only a few find it." I believe the life that He is referring to is a life in Christ in which He dwells in us and we in Him. We no longer seek earthly pleasures but rather seek to build His kingdom on earth.  We find a peace that surpasses all understanding and are content in all circumstances.  To truly accept Jesus we are called to "die to self."  This means our old self-centered desires are gone and we now have an outward focus to our desires.  We are seeking His face and acting as His hands and feet.
In my opinion, the heart of the Gospel is Matthew 25. This contains three parables and all are warnings to us. The last parable is that of "The Sheep and the Goats."  This parable is rarely preached in church, but is essential for those seeking to enter His kingdom. Some may argue that all they have to do is proclaim their allegiance to God as Paul writes to the Romans in 10:9, "if you confess with your mouth the Lord Jesus and believe in your heart that God has raised Him from the dead, you will be saved."
Paul is teaching that we must confess our belief in God to be saved. As a "saved" person we do not have automatic access to Heaven.  Please consider James 2:14-17: "What does it profit, my brethren, if someone says he has faith but does not have works? Can faith save him?  If a brother or sister is naked and destitute of daily food, and one of you says to them, "Depart in peace, be warmed and filled," but you do not give them the things which are needed for the body, what does it profit?  Thus also faith by itself, if it does not have works, is dead."
Now, some of you may be thinking, I thought that we could not earn our way into heaven. That is exactly correct.  Your good deeds for your church and neighbor will not earn your way into heaven. Heaven is reserved for those that (1) have accepted Jesus as their Lord and (2) have headed His call to feed His sheep.  Jesus told His disciples in John 13:35, "By this everyone will know that you are my disciples, if you love one another." We know from Scripture that God is love so if we love one another we truly have the Holy Spirit in us and are living in Christ. We feed the poor, clothe the naked, and visit the imprisoned not to curry favor with God but as a natural manifestation of our love for Christ and therefore our love for our fellow man.
Below is perhaps the heart of the gospel.   The parable of the sheep and the goats is from Matthew 25:31-46.
31 "When the Son of Man comes in His glory, and all the angels with Him, He will sit on His glorious throne. 32 All the nations will be gathered before Him, and He will separate the people one from another as a shepherd separates the sheep from the goats. 33 He will put the sheep on His right and the goats on His left.
34 "Then the King will say to those on His right, 'Come, you who are blessed by my Father; take your inheritance, the kingdom prepared for you since the creation of the world. 35 For I was hungry and you gave Me something to eat, I was thirsty and you gave Me something to drink, I was a stranger and you invited Me in, 36 I needed clothes and you clothed Me, I was sick and you looked after Me, I was in prison and you came to visit Me."
37 "Then the righteous will answer Him, 'Lord, when did we see You hungry and feed You, or thirsty and give You something to drink?'38 When did we see You a stranger and invite You in, or needing clothes and clothe You? 39 When did we see You sick or in prison and go to visit You?"
40 "The King will reply, 'Truly I tell you, whatever you did for one of the least of these brothers and sisters of mine, you did for Me.'"
41 "Then He will say to those on his left, 'Depart from me, you who are cursed, into the eternal fire prepared for the devil and his angels. 42 For I was hungry and you gave Me nothing to eat, I was thirsty and you gave Me nothing to drink, 43 I was a stranger and you did not invite Me in, I needed clothes and you did not clothe Me, I was sick and in prison and you did not look after Me.'"
44 "They also will answer, 'Lord, when did we see You hungry or thirsty or a stranger or needing clothes or sick or in prison, and did not help You?'"
45 "He will reply, 'Truly I tell you, whatever you did not do for one of the least of these, you did not do for Me.'"
46 "Then they will go away to eternal punishment, but the righteous to eternal life."
Prayer:  Dear God, May we never deny the opportunity to show Your face to our brothers and sisters.  Amen.
Meet the Author
Todd Shupe is a Men's Ministry Specialist through the General Commission of United Methodist Men and is in training to be a Certified Lay Minister through the Louisiana Conference of the United Methodist Church. He currently serves as the President of the Baton Rouge District of United Methodist Men and is a Board Member for Gulf South Men and serves on the Action Team for The Kingdom Group. He is a volunteer for the Walk to Emmaus, Grace Camp, and Iron Sharpens Iron. Todd resides in Baton Rouge, Louisiana.
We welcome your comments below.
Thank you for visiting. We trust that you have enjoyed reading our articles.
Liked this post?
Read more below or search for more topics…


Understanding Our Emotions
16 "But I say, walk by the Spirit, and you will not gratify the desires of the flesh. 17 For the desires of the flesh are against the Spirit, and the desires of the Spirit are against the flesh, for these are opposed to each other, to keep you from doing the things you want to do. 18 But if you are led by the Spirit, you are not under the law. 19 Now the works of the flesh are evident: sexual immorality, impurity, sensuality, 20 idolatry, sorcery, enmity, strife, jealousy, fits of anger, rivalries, dissensions, divisions, 21 envy, drunkenness, orgies, and things like these. I warn you, as I warned you before, that those who do…
Read More



A Joyful Life
"The thief comes only to steal and kill and destroy; I have come that they may have life, and have it to the full" (John 10:10 NIV).Our society has achieved a point of technological advancement that was unthinkable a mere 10-20 years ago.  In the Western world, we have freedoms of speech and access to clean drinking water that are unheard of in other countries.   All of us, even those barely out of diapers, have smart phones.  However, many Americans are without joy and are seeking answers from pharmaceutical companies to the bottom of a beer bottle.  I…
Read More



Who Is In Your Foxhole?
"One who has unreliable friends soon comes to ruin, but there is a friend who sticks closer than a brother" (Proverbs 18:24 NIV).
A few years ago I had the pleasure of meeting Coach Jeff Kisiah "Coach K" at an Iron Sharpens Iron men's equipping conference.  He spoke about the importance of foxhole friends and the strength of a threefold cord (Ecclesiastes 4:12).  This man of God recently went on to Glory, but he left behind a legacy.  The basis for the annual, national conference is Proverbs 27:17, "As iron sharpens iron, so does one man sharpen another."
Men…
Read More