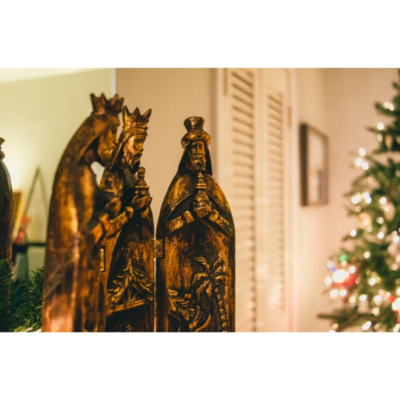 The Best Christmas Present
18 "All this is from God, who through Christ reconciled us to himself and gave us the ministry of reconciliation; 19 that is, in Christ God was reconciling the world to himself, not counting their trespasses against them, and entrusting to us the message of reconciliation. 20 Therefore, we are ambassadors for Christ, God making his appeal through us.  We implore you on behalf of
Christ, be reconciled to God" (2 Corinthians 5:18-20).
I love Christmas and the Advent season.   It is a special time of year for families and the church.   The Advent season allows us to prepare our hearts for the birth of the Christ child.   I also love all of the traditions that come with Christmas – decorating the tree with ornaments that have been passed down from generations, giving and receiving presents, candlelight service at church on Christmas eve, the smell of ginger bread baking and a fresh pine tree in the house, and the anticipation of Christmas day.
One of the traditions of Christmas is the Nativity story.  The New Testament contains two Christmas stories. They appear in Matthew 1–2 and Luke 1–2.  In the familiar version of the Christmas story, Mary and Joseph travel from Nazareth to Bethlehem. Because there was no room in the inn, the baby Jesus is born in a stable and placed in a manger.   It is important to tell the Nativity story each year to help us better understand the Christ portion of Christmas.
I think as fathers and priests of our houses we should also teach our children about the best Christmas present ever – the blood of Christ on the cross at Calvary.    John 3:16 tells us, "For God so loved the world, that He gave His only begotten Son, that whosoever believeth in Him should not perish, but have everlasting life. For God so loved the world, that He gave his only begotten Son, that whosoever believeth on Him should not perish, but have eternal life."   We are reconciled to the Father by His sacrifice of His son.  God has provided us a path for forgiveness of sins that leads to life everlasting and salvation.  We do not deserve this, but we receive it as the ultimate blessing.  Ephesians 2:9 instruct us that "Salvation is not a reward for the good things we have done, so none of us can boast about it."
So, this Advent season I encourage you to enjoy your family, church services, and all the special traditions of your family.  Tell your children or grandchildren the Nativity story but also tell them that Jesus himself is the best present.  A life lived in Him and for Him will help build His kingdom on earth and will lead to life everlasting.  Now that is some gift!
Prayer:  Dear God, Thank you for sending your son to earth.  Thank you for giving us the way, the truth, and the life.  Help keep us mindful that His blood is the most precious gift that we can ever receive it.  Amen.
Meet the Author
Todd Shupe is a Men's Ministry Specialist through the General Commission of United Methodist Men and is in training to be a Certified Lay Minister through the Louisiana Conference of the United Methodist Church. He currently serves as the President of the Baton Rouge District of United Methodist Men and is a Board Member for Gulf South Men and serves on the Action Team for The Kingdom Group. He is a volunteer for the Walk to Emmaus, Grace Camp, and Iron Sharpens Iron. Todd resides in Baton Rouge, Louisiana.
We welcome your comments below.
Thank you for visiting. We trust that you have enjoyed reading our articles.
Liked this post?
Read more below or search for more topics…


Acceptance is not Approval
"Accept each other just as Christ has accepted you so that God will be given glory"  (Romans 15:7 NLT).
The blood of Jesus provides us the opportunity for forgiveness of our sins.  Our sins will be cast as far as the east is from the west once we earnestly repent and ask His forgiveness.   However, our society has slowly tried to redefine what is and is not a sin.  In the political world, these are known as wedge issues that force people to one side or the other.  By design, there is no common ground.   Similarly, the enemy…
Read More



Judgment or Grace?
"…Then neither do I condemn you," Jesus declared. "Go now and leave your life of sin."  (John 8:11 NIV)John 8:1-11 tells us the story of a woman caught in adultery.  The religious leaders, the Pharisees, tried to use her sin to force Jesus to support their decision to stone her to death, which was in accordance with Mosaic law. "1 Jesus returned to the Mount of Olives, 2 but early the next morning he was back again at the Temple. A crowd soon gathered, and he sat down and taught them. 3 As he was speaking, the teachers of religious law and the Pharisees brought…
Read More



Can saying 'No' please God?
"Therefore, since we are surrounded by such a great cloud of witnesses, let us throw off everything that hinders and the sin that so easily entangles. And let us run with perseverance the race marked out for us" (Hebrews 12:1 NIV).
Each day we all get asked by others to do things.  Some tasks are fun, some are mundane, and some are someplace in the middle.  Service to others is an important way in which we show the love of Christ.  Service is ministry.  Service is important.I struggle with saying "no" to help people, especially when the request is…
Read More