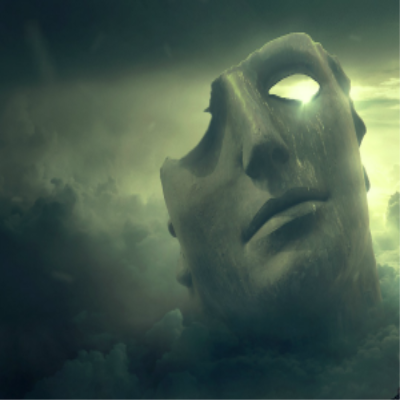 The Darkness Of Spiritual Blindness
"Teach me your way, LORD, that I may rely on your faithfulness; give me an undivided heart, that I may fear your name" (Psalm 86:11 NIV).
One of the worst things we can say to another person is to call them a liar.  The words sting because they are often perceived as an attack on the character of the accused.  Yes, the words are often hurtful, but they are always true.  Men, each one of us has at one time fallen short of honesty.   Sin entered the world through the lying words of the serpent, and it continues to be pervasive in this now fallen world.
Our natural tendency is to lie to ourselves.  We do this by believing our feelings, which are not always accurate. We believe our thoughts, but they may not be true.  When thoughts and feelings are not true, then who do you think is the author?  Scripture teaches us that our heart is not to be trusted.  "The heart is deceitful above all things and beyond cure.  Who can understand it?" (Jeremiah 17:9).  I think we give credibility to certain thoughts and feelings due to our spiritual "blind spots," which are attitudes or insecurities which we either cannot or will not see.
We all have spiritual blindness which is a spiritual problem.  The first step with any problem is to take it to God in prayer. I am reminded of the story of the blind beggar Bartimaeus who sits by the roadside and calls out (prays) in faith to Jesus to heal him of physical blindness (Mark 10:46-52).
To better see our spiritual blind spots, we should ask for clarity from the One who knows all and sees all.  I love the prayer: "Search me, God, and know my heart; test me and know my anxious thoughts.   See if there is any offensive way in me, and lead me in the way everlasting."
(Psalm 139:23-24).  This Scripture is so important because it is teaching us to invite God into our hearts to reveal to us anything that is unclean, which only serves to limit our relationship with Him.
The Psalmist wisely, beautifully, and repeatedly asks God to teach him His ways (Psalm 25:4-5, 86:11, 119:33). The Psalmist is putting into action the teaching of Proverbs 1:7, "The fear of the Lord is the beginning of knowledge, but fools despise wisdom and instruction."
After you've asked God for clarity, ask some trusted Christian friends or family for help. Proverbs 12:15 teaches, "Fools think their own way is right, but the wise listen to others."  If you think you do not need help and advice from Christian friends, then that in itself is a blind spot and self-deception.   God can speak to you through your friends.  Pray for their tongues and your own ears.
Then, ask the One to change you that can truly change you.  Jesus identified himself as "truth."  "I am . . . the truth" (John 14:6) and told us, "the truth will set you free" (John 8:32). The closer we are to Jesus, the more your life will be filled with truth and freedom. One fruit of this intimacy is we will be less vulnerable to negative thought and feelings as we walk in the light of God's truth. God's truth helps us to understand in our minds and believe in our hearts who we are and Whose we are.
Jesus said in John 9:39, "I have come into this world, so that the blind will see and those who see will become blind."  Those who admit their need for His grace and favor, are those who will be granted true and eternal sight.  Bartimaeus asked in faith for sight and our Lord honored that petition due to his faith.  However, Scripture warns us about our perils of our tendency to be "stiff-necked," which means obstinate and difficult to lead.  (Exodus 33:3; Deuteronomy 9:13; Nehemiah 9:16; Acts 7:51).   Some may have great knowledge about Christ (John 5:39-40), but they are already dead and will not find the "narrow gate" (Matthew 7:13-14) because they never knew Him (Matthew 7:21-23).
If you do not know Christ, then invite Him into your heart today.  If you do know Christ but are struggling with negative thoughts and feelings, follow the three- step plan above and yoke up with other members of the Body of Christ.  He is worthy, and YOU are precious in His sight.
Prayer: "I  will exalt you, my God the King; I will praise Your name for ever and ever. Every day I will praise You and extol Your name for ever and ever. Great is the Lord and most worthy of praise; His greatness no one can fathom" (Psalm 145:1-3 NIV).
Meet the Author
Todd Shupe is a Men's Ministry Specialist through the General Commission of United Methodist Men and is in training to be a Certified Lay Minister through the Louisiana Conference of the United Methodist Church. He currently serves as the President of the Baton Rouge District of United Methodist Men and is a Board Member for Gulf South Men and serves on the Action Team for The Kingdom Group. He is a volunteer for the Walk to Emmaus, Grace Camp, and Iron Sharpens Iron. Todd resides in Baton Rouge, Louisiana.
We welcome your comments below.
Thank you for visiting. We trust that you have enjoyed reading our articles.
Liked this post?
Read more below or search for more topics…


Evangelism Begins With Discernment
"Calling the Twelve to Him, He began to send them out two by two and gave them authority over impure spirits"  (Mark 6:7 NIV)
Evangelism is typically defined as the spreading of the Christian gospel by public preaching or personal witness.  Many Christians are uncomfortable with active engagement in evangelism because they do not consider themselves a preacher and are too timid to engage in personal witness. The gift of evangelism is directly from Christ:  "So Christ himself gave the apostles, the prophets, the evangelists, the pastors, and teachers."  (Ephesians 4:11).You may not be called to pastoral ministry…
Read More



Is Your Burden Too Heavy?
"Come to me, all you who are weary and burdened, and I will give you rest.  Take my yoke upon you and learn from me, for I am gentle and humble in heart, and you will find rest for your souls.   For my yoke is easy and my burden is light"  (Matthew 11:28-30 NIV).Many of us carry heavy burdens due to a wide variety of physical, mental, and spiritual reasons.  The burden can cause us to ache at the deepest level, our soul.   At this point two conclusions can be drawn: (1) the burden is not from God…
Read More



Doubting Your Doubts
"The world's sin is unbelief in me" (John 16:9 TLB).I have always been more interested in the root cause of a problem rather than dealing with the results of the problem.  As Christians we talk a lot about sin, particularly the separation of the sinner from God and the forgiveness of sin due to the blood of Jesus for those that repent and earnestly seek His face.However, I wonder if we truly understand the basis behind our sin.  Some would argue that the root cause is a desire to live in the flesh, pursue our own desires rather…
Read More