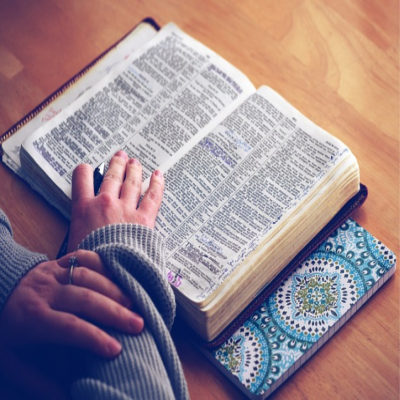 The Importance of Christian Study
"All Scripture is God-breathed and is useful for teaching, rebuking, correcting and training in righteousness" (2 Timothy 3:16 NIV).
For many of us the thought of studying brings back memories of cramming for exams in high school or college.  Many men would rather engage in Christian action rather than Christian study.  Through action we can see the fruits of our labor and be the Body of Christ in our neighborhood and beyond.
Our goal as Christians should be to develop an intimate relationship with God.  There are many paths in which God can reveal Himself to us:  prayer, worship, sacred moments, and fellowship with fellow Christians.   For us to have a relationship with God, we must actively seek him.  "You will seek me and find me when you seek me with all your heart" Jer. 29:13.  The Bible is perhaps God's most direct means of revealing Himself to us.
Have you ever heard the expression "Stay in the Word?"  I always thought that this was encouragement to read the Bible.  However, after reading the Bible we begin to learn that the Word is more than just a book.  The Word is God himself!  "In the beginning was the Word, and the Word was with God, and the Word was God" (John 1:1).  The Word can also refer to Jesus.  "The Word became flesh and made his dwelling among us.  We have seen his glory, the glory of the one and only Son, who came from the Father, full of grace and truth".  (John 1:14).  As we read scripture the Holy Spirit will help us to understand the message that God has for us.  Therefore, we should not be surprised when different people read the same scripture and come away with different interpretations.  They all have the right interpretation – for them.  The Word is also alive.  So, you can read the same scripture for years and then one day something clicks and you have an epiphany and now you see a different meaning, application, or interpretation of the same scripture.  This is truly the work of the Spirit delivering the right message to you at the right time.
Knowledge and application of scripture opens your heart to Christ.  As we mature as Christians we try to grow closer to Christ.  We want to seek His face and become more Christ-like in our thoughts, words, and actions.  Paul addresses this notion in 2 Cor 5:17  "Therefore, if anyone is in Christ, the new creation has come:  The old has gone, the new is here!"  Some may debate is the Bible the word of God or is it a book about God that was written by men?  For me, the answer to this question can be found in 2 Tim. 3:16 "All Scripture is God-breathed and is useful for teaching, rebuking, correcting and training in righteousness." 
Looking at the Greek word for "God breathed" or as some translations say, "breathed out" is "theopneustos" and means "inspired by God" or literally the very "breath of God."  I believe that the Word of God is God's breathing out His literal Word.  The breath of God is all powerful and can even raise dry bones to life.  "Then he said to me, "Prophesy to the breath; prophesy, son of man, and say to it, 'This is what the Sovereign Lord says:  Come, breath, from the four winds and breathe into these slain, that they may live.'"  So I prophesied as he commanded me, and breath entered them; they came to life and stood up on their feet—a vast army" (Ezekiel 37:9-10).
Scripture is inspired by God.  We know that "prophecy was never produced by the will of man, but men spoke from God as they were carried along by the Holy Spirit" (2 Peter 1:21).  It's important to note that the word "prophecy" does not mean, in this context, predicting the future.  The Greek word "prophēteia" means "a discourse emanating from divine inspiration."  Therefore, we can say that all Scripture is God's breathed words and emanates from a divine (God's) inspiration.  In other words, the Word of God is not of human origin but originates from God Himself and to study scripture is to study God himself.
We should study scripture because it is totally reliable and without error.  We should read and study the Bible because God does not change; it is as relevant for us as it was when it was written.  "The grass withers and the flowers fade, but the word of our God stands forever"  (Isaiah 40:8).
While technology and culture changes, mankind's nature and sinful desires do not change.  We find, as we read scripture, "there is nothing new under the sun"  (Ecclesiastes 1:9).  Mankind as a whole continues to seek answers and comfort in the wrong places.  The Bible, is so important that Jesus said of it, "Man does not live on bread alone, but by every word that comes from the mouth of God" (Matthew 4:4).  In other words, if we want to live life to the fullest, as God intended, we must listen to and heed God's written Word.  The Word is the only offensive weapon in the armor of God (Ephesians 6:17).
The Bible gives us a pathway to salvation and how one truly gets to heaven.  God's Word shows us just how much God loves us (Romans 5:6-8; John 3:16).  We are drawn to love Him in return (1 John 4:19).  God extends grace upon grace to us.
You cannot lead if you are not equipped.  The Bible equips us to serve God (2 Timothy 3:17; Ephesians 6:17; Hebrews 4:12). Scripture helps us understand how to be saved from our sin and its road to death (2 Timothy 3:15). Meditating on God's Word and obedience will bring success in life (Joshua 1:8; James 1:25).  God's Word helps us to identify sin in our lives and remove it (Psalm 119:9, 11).  It gives us guidance in life and makes our paths straight (Psalm 32:8, 119:99; Proverbs 3:5-6).  Life is full of dangerous snares but the Word will show you the way.  "Thy word is a lamp unto my feet, and a light unto my path" (Psalm 119:105).
It cannot be emphasized strongly enough just how important the Bible is to our lives.  Studying the Bible can be compared to most anything else in life.  The more you put into it, the more you will get out of it.  I have heard it said before that it is important to know the Bible because you may be the only Bible that somebody else may ever see.
Prayer:  Dear God, Send Your Holy Spirit to teach us as we read Scripture so that we are reading Words of Life. Amen.
Meet the Author
Todd Shupe is a Men's Ministry Specialist through the General Commission of United Methodist Men and is in training to be a Certified Lay Minister through the Louisiana Conference of the United Methodist Church. He currently serves as the President of the Baton Rouge District of United Methodist Men and is a Board Member for Gulf South Men and serves on the Action Team for The Kingdom Group. He is a volunteer for the Walk to Emmaus, Grace Camp, and Iron Sharpens Iron. Todd resides in Baton Rouge, Louisiana.
We welcome your comments below.
Thank you for visiting. We trust that you have enjoyed reading our articles.
Liked this post?
Read more below or search for more topics…


The 'Fruit of the Spirit' Attributes
"But the fruit of the Spirit is love, joy, peace, forbearance, kindness, goodness, faithfulness, gentleness and self-control. Against such things there is no law" (Galatians 5:22-23 NIV).
"The Fruit of the Holy Spirit" is a Biblical term that sums up nine attributes of a Christian. According to Paul the Apostle in his Epistle to the Galatians: "But the fruit of the Spirit is love, joy, peace, patience, kindness, goodness, faithfulness, gentleness and self-control" (Galatians 5:22-23).  These are all characteristics of the Holy Spirit's active presence in lives and a healthy Christian soul contains all of the…
Read More



Be Specific In Prayer
"Jabez was more honorable than his brothers. His mother had named him Jabez, saying, "I gave birth to him in pain." Jabez cried out to the God of Israel, "Oh, that you would bless me and enlarge my territory! Let your hand be with me, and keep me from harm so that I will be free from pain." And God granted his request" (1 Chronicles 4:9-10 NIV).
If you have a specific need, you need to make a specific request.  We all have specific needs (health, financial, family, etc.), but many of us approach prayer with general requests. …
Read More



A Spiritual Health Check-Up – How is Your Discipleship?
"The things you have heard me say in the presence of many witnesses entrust to reliable people who will also be qualified to teach others" (2 Timothy 2:2 NIV).
Our health is very important to us.  Many of us try to watch what we eat and try to exercise.  We go to the doctor each year for a flu shot and an annual check-up.   There has been an increased awareness in recent years regarding the need for mental health awareness.   Our mental health is related to our physical health.  I wonder if we…
Read More