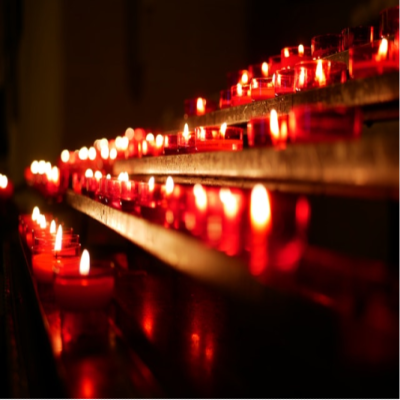 My Dream That Carried A Message From God
"In the last days, God says, I will pour out my Spirit on all people. Your sons and daughters will prophesy, your young men will see visions, your old men will dream dreams" (Acts 2:17 NIV).
I have lived 47 years and never felt that I had received a message from God.  I envied the people in the Bible that spoke to God either in person, through dreams or angels. I had decided that I was only going to hear God's word through Godly friends, church, small groups, and reading the Bible.
I longed to hear God talk directly to me.  Several friends would tell me of dreams or hearing direction from God — but not me.  Two nights ago I heard from God for the first time.  He sent me a dream with people and symbolism that He knew I would understand and would alleviate any anxiety.
In the dream, I was on a bus sitting next to the late Dr. Elvin Choong, who has been deceased for over 10 years.  Elvin was my PhD adviser at Louisiana State University (LSU) and a dear friend and research collaborator for many years.  He was my father figure for many years.  There were many people on the bus, but I did not recognize them and the only person who spoke was me.  As we traveled down the road, we would periodically encounter some sort of road block (fallen trees or a car wreck) and the road would seem to be impassable.
The first time this happened, I told Elvin to stop and that there is no way to get through.   He continued at the same speed and we made it through fine. I have no idea how he did it — but he did.
We kept encountering roadblocks and he kept driving through.  The only thing that changed was my fear was lessened each time until finally I anticipated the road blocks with excitement – I wonder how we are going to get through this road block this time!
Now for my amateur dream interpretation: Elvin was my father figure for many years and he symbolized my heavenly Father.  He was in control; I wanted to do things my way at first but gradually came to trust in Him. I was sitting in the front in a leadership position, but I yielded all authority and leadership to Him. The people in the back represented people that count on me — not necessarily financially or emotionally, but in some aspect of life they count on me to smile when we meet, to be available when they need home repairs, to cut their grass when they go on vacation and to serve the church universal.
I am a leader of many but a follower of Jesus.  This dream gave me peace.  It showed me that God is in control. Life will always bring adversity but with God by your side, you can do all things.  I pray if you are struggling with fear, doubt, worry you will realize that God is with you and will never leave you or forsake you.
These are tools of the enemy to rob you of the joy that God has promised for you. Rebuke them in the name of Jesus.  Be blessed, be happy, be the child of God that He has called you to be.
Prayer:  Dear God, Thank you for sending dreams that bring a message of hope and peace. Be with us as we carry that message to others. Amen.
Meet the Author
Todd Shupe is a Men's Ministry Specialist through the General Commission of United Methodist Men and is in training to be a Certified Lay Minister through the Louisiana Conference of the United Methodist Church. He currently serves as the President of the Baton Rouge District of United Methodist Men and is a Board Member for Gulf South Men and serves on the Action Team for The Kingdom Group. He is a volunteer for the Walk to Emmaus, Grace Camp, and Iron Sharpens Iron. Todd resides in Baton Rouge, Louisiana.
We welcome your comments below.
Thank you for visiting. We trust that you have enjoyed reading our articles.
Liked this post?
Read more below or search for more topics…


A Ministry Making a Positive Impact – The KINGDOM Group!
I want to bring to your attention to a ministry that is making a positive impact in locally and nationally.  The KINGDOM Group International, Inc. is a Baton Rouge based organization that is successfully addressing racial and cultural divisiveness.  For the past 3 years this ministry has held meetings and special events that have resulted in very positive changes in the area of unity and reconciliation.Giving a SINGLE GIFTin any amount; orBecoming a MONTHLY DONORof $10, $25, $50, $100 or any amount; orBy giving an "IN-KIND GIFT"(office space, equipment or supplies, volunteering, other donations,…
Read More



Reached the End of Your Rope?
"Have you not known? Have you not heard? The Lord is the everlasting God, the Creator of the ends of the earth. He does not faint or grow weary; His understanding is unsearchable. He gives power to the faint, and to him who has no might he increases strength. Even youths shall faint and be weary, and young men shall fall exhausted; but they who wait for the Lord shall renew their strength; they shall mount up with wings like eagles; they shall run and not be weary; they shall walk and not faint" (Isaiah…
Read More



The Heart of a Child is the Key to Heaven
"And they were bringing children to him that he might touch them, and the disciples rebuked them. But when Jesus saw it, he was indignant and said to them, "Let the children come to me; do not hinder them, for to such belongs the kingdom of God. Truly, I say to you, whoever does not receive the kingdom of God like a child shall not enter it." And he took them in his arms and blessed them, laying his hands on them" (Mark 10:13-16 ESV).There is no greater gift from God…
Read More