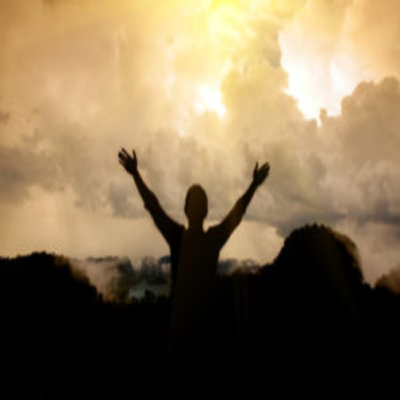 Finding Joy While Suffering
"God lifted me out of the slimy pit, out of the mud and mire; He set my feet on a rock
and gave me a firm place to stand" (Psalm 40:2 NIV).
One of the more common questions from Christians is about suffering.  Why does a God that loves us as His own children allow suffering?  Perhaps the greatest challenge to our faith is to understand pain and suffering.
Many people point to the Book of Job to understand suffering.  God did not cause Job's suffering but allowed the devil to cause suffering.  Job was tempted and tested.  Job struggled in his understanding and cried out to the Lord.  God spoke truth and declared His sovereignty.  Job, in the end, chose God and was rewarded.
Job is useful today for us to understand suffering, and to then step out in faith to claim the promise of Romans 5:3-5.  "Not only that, but we rejoice in our sufferings, knowing that suffering produces endurance, and endurance produces character, and character produces hope, and hope does not put us to shame, because God's love has been poured into our hearts through the Holy Spirit who has been given to us."
There is nothing joyful about suffering.  We do not rejoice for the suffering but rejoice while we persevere through the suffering.  God never causes suffering but will allow it to bring us closer to Him (Christian perfection). Scripture encourages us to consider it all joy, even times of suffering because these times will help make us more like the One that was perfect.  "Consider it all joy, my brethren, when you encounter various trials,  knowing that the testing of your faith produces endurance.  And let endurance have its perfect result, so that you may be perfect and complete, lacking in nothing" (James 1:2-4).
Just like Job, none of us are exempt from suffering, loneliness, discouragement, false accusations, or unjust criticism. In fact, Jesus understands and experienced them all.  As we experience them, we can be bitter or we can persevere with joyful anticipation as we wait to see how the Lord will use it for good as stated in Romans 8:28.  "And we know that in all things God works for the good of those who love him, who have been called according to his purpose."  While we do not know the particular manner or time in which God will use the pain, we can rejoice that if we trust in Him, it will be used to develop the character of Christ in us.
So, what is the right next step.  First, build your house on the Rock.  This means to feed your faith during the good times (and bad times) so when the winds of suffering come, you will be better prepared to persevere.
A personal relationship with Jesus is essential to finding victory before, during, and after suffering.  If we approach Him with trust and delight, we are then able to claim His promises of provision and protection.  For example, Proverbs 3:5-6 teaches, "Trust in the LORD with all your heart and lean not on your own understanding; in all your ways submit to Him, and He will make your paths straight" (emphasis added).  Moreover, Psalm 37:4 reads, "Delight in the LORD and He will give you the desires of your heart (emphasis added)."
Trust is a sign of faith.  Go read Hebrews 11 to learn how God honors the faith (trust) of flawed people.  As we delight in the Lord, the desires of our heart become closer in accordance with His desires.  In times of suffering, do not be discouraged but instead rely on Him for provision and protection, which are far greater and stronger than anything from this world.  Our Lord experienced suffering and knew we would also when He said in John 16:33, "In this world you will have trouble.  But take heart!  I have overcome the world."  We can overcome the suffering if we stand steadfast in faith and delight and claim His promises.
Prayer:  Dear God, Thank you for never leaving us or forsaking us.  Help us to trust and delight in You during good times and bad. Amen.
Meet the Author
Todd Shupe is a Men's Ministry Specialist through the General Commission of United Methodist Men and is in training to be a Certified Lay Minister through the Louisiana Conference of the United Methodist Church. He currently serves as the President of the Baton Rouge District of United Methodist Men and is a Board Member for Gulf South Men and serves on the Action Team for The Kingdom Group. He is a volunteer for the Walk to Emmaus, Grace Camp, and Iron Sharpens Iron. Todd resides in Baton Rouge, Louisiana.
We welcome your comments below.
Thank you for visiting. We trust that you have enjoyed reading our articles.
Liked this post?
Read more below or search for more topics…


How to be a AAA-Rated Father
"Children are a gift from the Lord; they are a reward from Him.  Children born to a young man are like arrows in a warrior's hands.   How joyful is the man whose quiver is full of them!  He will not be put to shame when he confronts his accusers at the city gates )(Psalm 127:3-5 NLT).
Each year parents with good intentions will search for books to improve their parenting skills.  As parents we love our children and want them to have a good life and be happy.  We purchase material things to make them happy.  We take them on…
Read More



Make Today Count
"Be very careful, then, how you live—not as unwise but as wise, making the most of every opportunity, because the days are evil"  (Ephesians 5:15-16 NIV).
Time is a precious commodity.  It is a gift from God, and we should be good stewards of our time as with any other gift.  Certainly, the devil is interested in misuse of your time.  If he can cheat you of your time, he can cheat you of your heavenly treasure.  Perhaps the last thing that he is loath to let go is time.  His game is to cheat you of today and…
Read More



Men, You Can Add Power to Your Prayers!
"Therefore I tell you, whatever you ask for in prayer, believe that you have received it, and it will be yours" (Mark 11:24 NIV).
Our prayers already have great power – more than we can ever imagine.  The problem is that we often fail to recognize the power of our prayers.Prayer is an open line of communication with God.  The idea that we have 24/7 ability to connect to the Creator of heaven and earth is hard to comprehend.First, why would God want to talk with us? Is there a right and wrong way…
Read More